The School of Engineering's first African American associate dean smiled at the image smiling back at him, a portrait where he carefully cradles the engraved pewter cup he won for research into diversity issues.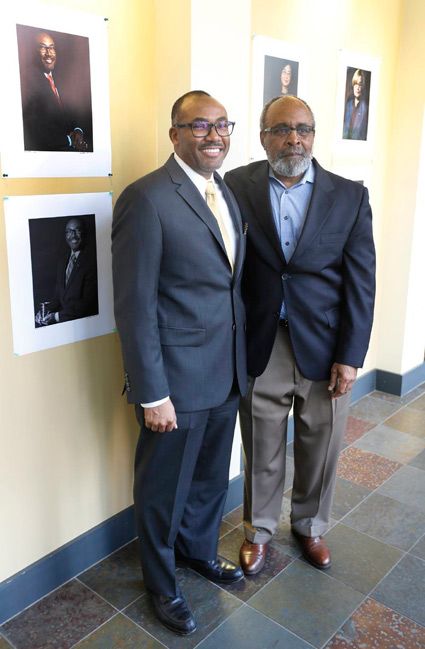 William Robinson's portrait, part of the Vanderbilt Pioneer program honoring those who forge paths for others, prompted memories of his mother—a student in the last segregated class to graduate Wauchula, Florida, schools who became the principal of a school she wouldn't have been allowed to attend.
"To think that I'm being considered a pioneer, as my mother was, is so meaningful for me," Robinson said. "There's more of my story yet to write, but I'm so glad we're taking a moment to stop and recognize this."
Honorees' portraits lined a long hallway at the Bishop Joseph Johnson Black Cultural Center on April 3. Their images were covered in tissue paper until the photographer, Professor of Philosophy Lucius Outlaw Jr., gave the signal to tear it away.
Each honoree also received take-home copies of the two poses on display, one in black and white and one in color.
Before the unveiling, Outlaw spoke passionately about the joy that photography brings him and how seriously he takes the jobs of putting his subjects as ease, selecting the right images, and bringing them to life on paper. David Williams II, vice chancellor for athletics and university affairs, lauded his friend and colleague's talent, not only for photography, but also for keeping him encouraged and energized over the course of nearly two decades.
Outlaw and Williams both recognized Beverly Moran, professor of law and sociology, for her role in creating the Vanderbilt Pioneers program, devoted to keeping a historical record of women and minorities who were the first in university leadership roles.
Divinity School Dean Emilie M. Townes, Vanderbilt's first African American dean, said being photographed by Outlaw was a completely different experience than the publicity photos she's posed for.
"What I didn't expect is what an intimate feeling sitting for a photo shoot can be," Townes said. "Nobody ever really tried to capture what Lou has."
The portrait unveiling was sponsored by the Vanderbilt Athletics department. Pioneers listed in Tuesday's program were:
Sandra Barnes, assistant vice chancellor for equity, diversity and inclusion
C. Andre Christie-Mizell, senior associate dean, College of Arts and Science
Andre L. Churchwell, Levi Watkins Jr., M.D., Chair and Vanderbilt University Medical Center's chief diversity officer
Charlene M. Dewey Riley, professor of medical education and administration
Idit Dobbs-Weinstein, associate professor, College of Arts and Science
Donna Y. Ford, professor, Peabody College of Education and Human Development
Vivien Green Fryd, professor, Department of History of Art
George C. Hill, vice chancellor for equity, diversity and inclusion
Rolanda Johnson, associate professor, School of Nursing
Susan L. Kay, associate dean for clinical affairs, School of Law
Nancy King, Lee S. and Charles A. Speir Chair in Law
Candice Storey Lee, associate vice chancellor and deputy athletic director
Paul C.H. Lim, associate professor, Divinity School
William Luis, Gertrude Conaway Vanderbilt Professor of Spanish
Velma McBride Murry, Lois Autrey Betts Chair, Education and Human Development
Kelly Oliver, W. Alton Jones Professor of Philosophy
Sohee Park, Gertrude Conaway Vanderbilt Professor of Psychology
Evelyn Joy Diane Patterson, associate professor, College of Arts and Science
Jennifer Ann Pietenpol, Benjamin F. Byrd Jr. Professor of Oncology, Vanderbilt-Ingram Cancer Center director
William H. Robinson, associate dean, School of Engineering
Choon-Leong Seow, Vanderbilt, Buffington, Cupples Chair in Divinity
Tina Smith, interim vice chancellor for equity, diversity and inclusion
Stephanie E. Spottswood, professor of radiology
Emilie M. Townes, Divinity School dean and E. Rhodes and Leona B. Carpenter Professor of Womanist Ethics and Society
Benigno Trigo, chair, Department of Spanish and Portugese
Susan Wente, provost and vice chancellor for academic affairs
David Williams II, vice chancellor for athletics and university affairs and athletics director