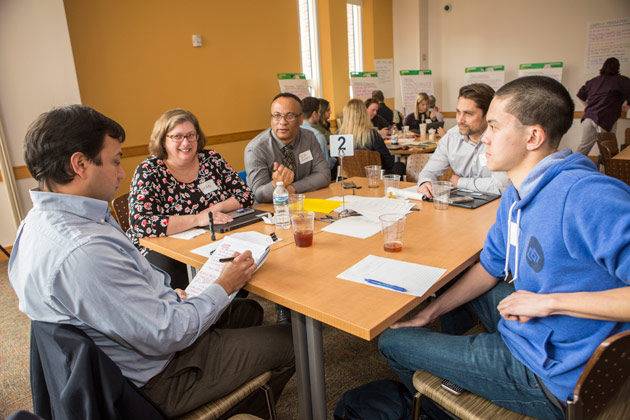 Nearly 50 people attended Vanderbilt's first BlueSky energy visioning session to generate bold and creative approaches for reducing the university's carbon footprint.
FutureVU launched the BlueSky Energy Vision Study in January to identify effective strategies for reducing carbon emissions on campus. Components of the study include, but are not limited to, local and off-site energy generation, utility distribution, energy consumption and conservation, water use, and operations. The study will culminate in a comprehensive "BlueSky Energy Vision" for campus energy in 2018.
"As with all FutureVU efforts, collaboration across the Vanderbilt community is essential for a successful outcome," Vice Chancellor for Administration Eric Kopstain said. "It is encouraging to see many faculty, staff and students engaging with this topic."
The two-day event March 26-27 at the Kissam Center gathered BlueSky advisory committee members and other campus partners to identify and prioritize goals for carbon emissions reduction leading to measurable outcomes.
"This gathering was a unique opportunity to bring experts together and strategize about where we want carbon emissions at Vanderbilt to be in 10 or 20 years," Associate Vice Chancellor and Chief Facilities Officer Mike Perez said.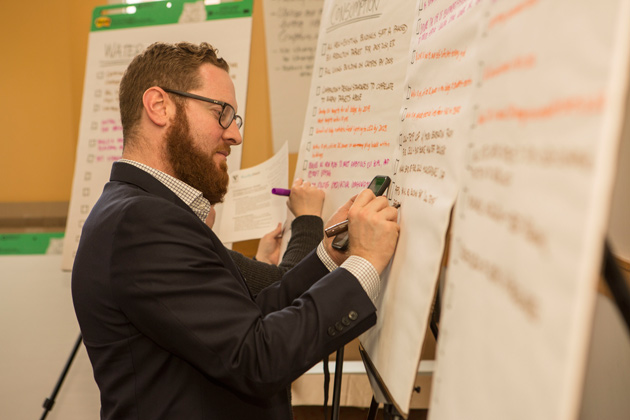 The visioning exercise included presentations, dialogue and working sessions that generated more ideas for sustainable practices across the university. Earlier this semester, Vanderbilt released a redesigned sustainability report that included the university's latest greenhouse gas (GHG) emissions figures, which come from three evenly split sources. This session discussed emissions from the power generated on campus and the power purchased from the Nashville Electric Service. The third source—commuting, air travel, recycling and waste disposal emissions—is being studied in the FutureVU mobility and transportation planning efforts.
The session also featured an open house where others from the Vanderbilt community conversed with lead members of the project team about next steps for the study. Further community engagement is planned in the coming weeks to solicit additional involvement and ideas. Another visioning session is set for the start of the fall semester, and details will be released later this summer.