VUToday: Middle ground for Democrats and Republicans, VU's $65M commitment to life sciences in weekly roundup of VU news
Mar. 30, 2018, 3:17 PM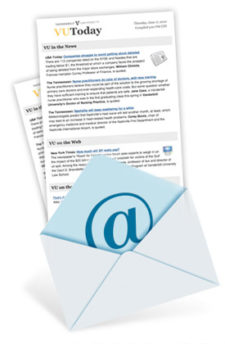 The Vanderbilt University Division of Communications publishes "VUToday," a compilation of Vanderbilt mentions in the media, three times per week. Read a selection of Vanderbilt news stories for the week of March 26.
The Economist: What do Democrats and Republicans both like?
A new working paper by Larry Bartels, May Werthan Shayne Professor of Public Policy and Social Science, illuminates topics upon which Republicans and Democrats can still agree. Bartels' research was also referenced in an article in Salon.
The New York Times: How Nasdaq CEO Adena Friedman Beat the Odds on Wall Street
It can be notoriously difficult for women to thrive on Wall Street, but Adena Friedman says that hasn't been the case for her. Friedman, MBA'93, was the cover story of the Spring 2017 issue of Vanderbilt Magazine.
Oak Ridge National Laboratory: Putting quantum scientists in the driver's seat
Matthew Feldman, a Vanderbilt graduate student conducting doctoral research at ORNL, is mentioned. Science Daily also featured this research.
The Nashville Post: Vanderbilt to use $65M for life science research
Officials with New York-based Deerfield Management and Vanderbilt University announced the launch of Ancora Innovation LLC to support VU's life sciences research via a commitment of up to $65 million. Susan Wente, provost and vice chancellor for academic affairs, is quoted, and Padma Raghavan, vice provost for research, is mentioned. The Nashville Business Journal posted a related piece.
The Conversation: Why you stink at fact-checking
Lisa Fazio, assistant professor of psychology, writes about the importance of fact-checking. The San Francisco Chronicle republished the piece.