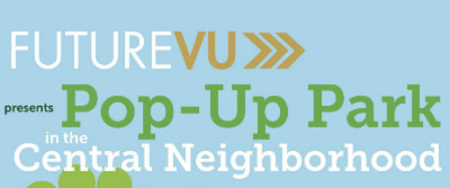 Vanderbilt is turning its Central Neighborhood into an interactive pop-up park April 2-6. The site sits adjacent to Branscomb Quadrangle, the E. Bronson Ingram Studio Arts Center and the Engineering and Science Building.
The park, created as part of FutureVU, is intended to activate this high-traffic outdoor space and provide opportunities for community events and recreational activities throughout the week. Setup for the park is scheduled for the morning of Monday, April 2. The park will be open for use Monday afternoon through Friday, April 6.
Several events are planned throughout the week:
Monday, April 2: The park will open at 4 p.m with free ice cream floats. The first 200 visitors will receive FutureVU T-shirts.
Tuesday, April 3: A free "breakfast on the go" will be available at 7:15 a.m. The Vanderbilt Recreation and Wellness Center will host a pound class from 5 to 5:30 p.m.
Wednesday, April 4: The Rec will host yoga on the lawn from noon to 12:45 p.m. S'more Love Bakery will provide free s'mores starting at 1:30 p.m. A movie night featuring Wonder Woman and a popcorn bar will begin at 7 p.m.
Thursday, April 5: The Center for Student Wellbeing will host a guided meditation session from 10:15 to 10:45 a.m. An opportunity to plant your own succulent is scheduled from noon to 2 p.m., and snacks will be provided.
The university plans to continue studying the Central Neighborhood and closely align changes with FutureVU's guiding principles. The pop-up park will include landscaping, various types of seating, lighting and open space for activities. It also will feature a temporary amphitheater, a central element being considered in the neighborhood's redesign. A portion of Garland Avenue will be closed April 2-4 to develop a temporary "complete street" highlighting potential streetscape enhancements on campus.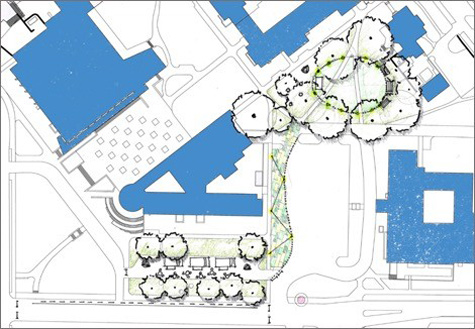 This pop-up park is the third in a series of community-oriented pop-up events designed to activate outdoor campus spaces. The program promotes sustainability, experimentation and community engagement. The park will be open rain or shine, though individual events may be cancelled due to inclement weather.