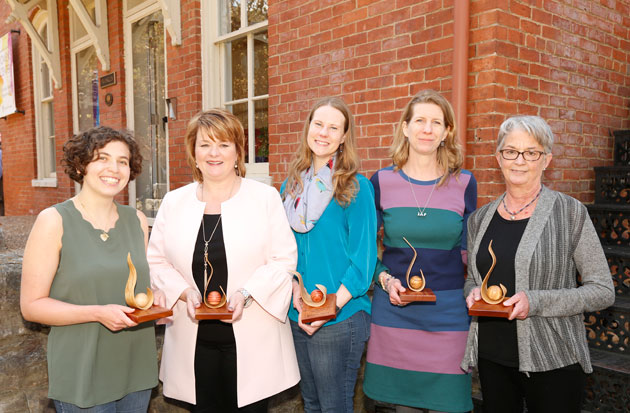 Five individuals from the Vanderbilt community were recognized for their leadership, mentoring and contributions to the advancement of women during a lunch held at the Margaret Cuninggim Women's Center March 27.
Sara Starr, a senior double majoring in political science and women's and gender studies, is this year's undergraduate recipient of the Margaret Cuninggim Women's Center Leadership Award. The award honors an undergraduate and/or graduate student who demonstrates leadership in activities that contribute to the achievements, interests and goals of women or that promote gender equity.
Though Starr is involved in multiple campus organizations, it is her work with the Vanderbilt Student Government Sexual Assault Prevention Committee (VSAP) through which she has made the greatest impact. Under her leadership, VSAP lobbied for all VSG members to attend Green Dot training, urged the university to reconsider safety and access issues in residence halls, and organized a one-day undergraduate conference on sexual violence, among other efforts. Starr's nominator writes that she is "one of the most-informed campus resources on issues of violence prevention and Title IX. I have witnessed her professionalism and persistent commitment, watching her advocate for reform with maturity that has impressed faculty, staff and high-ranking members of the administration."
Kate Snyder, a Ph.D. student in the Department of Biological Sciences, is this year's graduate recipient of the Leadership Award. According to her nominator, Snyder demonstrates "true leadership and commitment to women and underrepresented groups in the sciences."
Snyder organized and leads two groups on campus: the Women of Biological Sciences, and Inclusivity in the Biosciences. The first group offers women a space to seek and receive feedback about presentations and interviewing, allowing them to feel greater confidence and competitiveness in these arenas. The second group does outreach activities to increase awareness about the need for diversity in STEM. Through the latter group, Snyder advocated for an implicit bias training for incoming biology graduate students, which occurred for the first time last fall. Inclusivity in the Biosciences has invited speakers who research inequality in STEM fields and is currently planning a symposium on gender bias, discrimination and inequities in the sciences.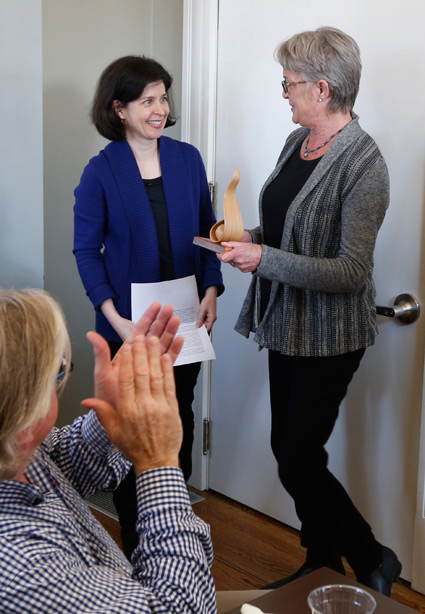 The Women's Center's Mentoring Award honors a member or members of the Vanderbilt University community who foster the professional and intellectual development of Vanderbilt women. This year's recipients are Laura Carpenter, associate professor of sociology, and Mona Frederick, executive director of the Robert Penn Warren Center for the Humanities.
Carpenter works to enact and embody feminist mentorship in her work with undergraduates, graduate students and fellow faculty members. Her roles as director of the Honors Program in Sociology and as the director of the Program in Career Development in the College of Arts and Science have allowed her to work closely with students and faculty. One of her nominators writes that Carpenter "is both an adviser and an ally to female graduate students as we navigate through a department with a predominantly male faculty."
Another nominator writes the following: "Graduate students rarely find a professor who treats students as though they can actually do what they set out to do. Often the environment in the academy is predicated upon sowing seeds of doubt in 'not-yet-Ph.D.s,' making them feel inadequate. But with Laura as their support system, students feel worthy—like she has full confidence in their potential."
Frederick, the second recipient of the Mentoring Award, has been mentoring Vanderbilt graduate students, faculty and staff for nearly 30 years. One of her nominators explains that, as a mentor, "she is generous and encouraging. She doesn't hoard her resources, and she isn't hierarchical in her dispensation, offering her best information to faculty, staff, administration and students."
Another nominator writes that the intentional community created by Frederick at the Warren Center taught her how to "build networks and reach outside the silos of academic disciplines. Through the Warren Center Graduate Fellows program, Mona has provided a structure enabling more than 60 women with the tools to build extensive interdisciplinary networks, contributing to their professional and scholarly development."
This year's winner of the Mary Jane Werthan Award is Angela Wilson-Liverman, director of the Division of Midwifery and Advanced Practice Nursing in the Department of Obstetrics and Gynecology at Vanderbilt University Medical Center. The Werthan Award is presented annually to an individual who has contributed significantly to the advancement of women at Vanderbilt University. It honors three qualities characteristic of its first recipient, for whom it is named: vision, persistence and extraordinary skill in interpersonal and institutional relations.
Wilson-Liverman saw that the work of nurse midwives and women's health nurse practitioners wasn't being calculated by insurance companies, which were over-crediting supervising M.D.s but ignoring the work of midwives and nurse practitioners. One of her nominators writes that Wilson-Liverman's "insistence this misinformed productivity rating be rectified has meant our value as health care providers is now appropriately recognized within the department. Her leadership has allowed the growth of the division as a whole, but perhaps more important, it has had a direct positive influence on the professional growth for individual APNs."
For more information on the Women's Center's annual awards, contact Rory Dicker, or visit the Women's Center's website.