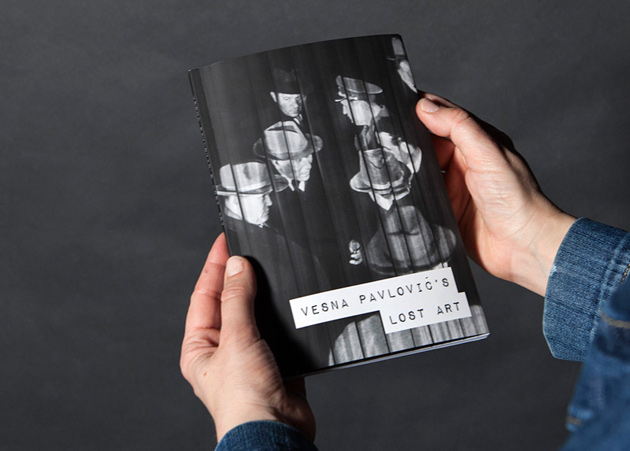 Vesna Pavlović's installation "Lost Art" largely inspired the publishing of a new soft-cover volume that spotlights several themes in her research. The book Vesna Pavlović's Lost Art: Photography, Display, and the Archive will be the focus of a conversation with Pavlović and a panel of experts in fields related to her work Saturday, March 31, from 2 to 3 p.m. at Parnassus Books.
The book is the inaugural offering of a new publication program undertaken by the Hanes Art Gallery at Wake Forest University, where Pavlović's work was featured in late 2016. Vesna Pavlović's Lost Art features five essays by award-winning art historians and curators as well as the artist's portfolio.
"Our book contextualizes Vesna's photographs and installations in relationship to art history, the legacy of the Cold War in Eastern Europe, and contemporary art practices," said Morna O'Neill, associate professor of art history at Wake Forest and editor of the publication. "Vesna's installation at the Hanes addressed the geography of the post-Cold War world, comprising narratives of location and dislocation in a global context."
Joining Pavlović, who is an associate professor of art, for the discussion and book signing at Parnassus will be her Vanderbilt colleague Nancy Reisman, associate professor of English; Susan Edwards, executive director and CEO of the Frist Center for the Visual Arts; Katie Wolf, assistant director of the Hanes Art Gallery; and Anna Zeitlin, curator with Zeitgeist Gallery. Writer Veronica Kavass will serve as moderator.
"Much of her work mines history and personal experience to ask the viewer to consider both the utopian impulses and, at times, empty pageantry of sites that encourage us to question photography's perceived 'truth,'" O'Neill said. "This consideration of the nature of the photographic image, or in her words, 'the photographic moment,' also allows her to explore related questions of memory and representation."
Pavlović earned her bachelor of fine arts in cinematography from the University of Belgrade and a master of fine arts in visual arts from Columbia University. She joined the Vanderbilt faculty in 2009.