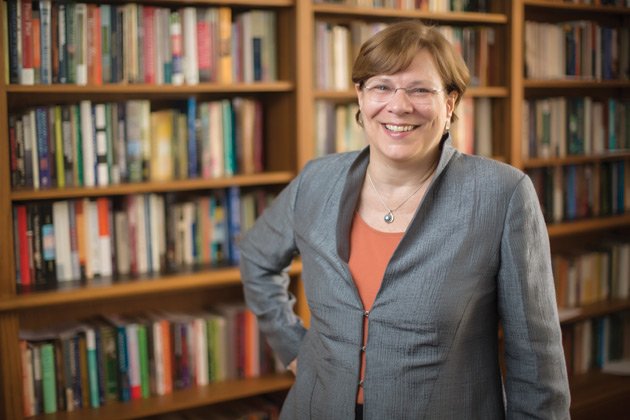 Lauren Benton, Nelson O. Tyrone, Jr. Professor of History and professor of law, has been named winner of the Toynbee Prize for 2019. The Toynbee Prize is awarded biennially for work that makes a significant contribution to the study of global history. Previous winners include Sir Christopher Bayly, Albert O. Hirschman, Jean-Paul Sartre and Arthur Schlesinger Jr.
"I congratulate Laurie for this well-deserved honor," said Kamal Saggi, Frances and John Downing Family Professor of Economics and interim dean of the College of Arts and Science. "She is a distinguished scholar with an established record of excellence and tremendous international standing in her field. Her scholarship continued to thrive even during her term as dean of the College of Arts and Science."
The award trustees cited Benton's achievements in integrating global history with legal history, her extensive and meticulous research, and a wide-ranging approach that sheds new light on our understanding of the evolution of modern sovereignty.
"Lauren Benton has made enormous contributions to the global historical study of empires and international legal systems," said Dominic Sachsenmaier, president of the Toynbee Prize Foundation and chair professor of modern China at the University of Göttingen. "We are delighted to award her the 2019 Toynbee Prize for the excellence and broad range of her global historical scholarship."
Benton's work focuses on law in European empires, the history of international law and Atlantic world history. The author of four books and co-editor of three, she is perhaps best known in her field for her three seminal works of comparative legal history: Law and Colonial Cultures: Legal Regimes in World History, 1400–1900 (Cambridge University Press, 2002), which was awarded the J. Willard Hurst Prize and the World History Association Book Prize; A Search for Sovereignty: Law and Geography in European Empires, 1400–1900 (Cambridge University Press, 2010); and, most recently, Rage for Order: The British Empire and the Origins of International Law, 1800–1850 (Harvard University Press, 2016), co-written with Lisa Ford.
Benton will accept the prize and deliver the Toynbee Prize Lecture at the Annual Meeting of the American Historical Association in Chicago in early January 2019.