Media Inquiries
Latest Stories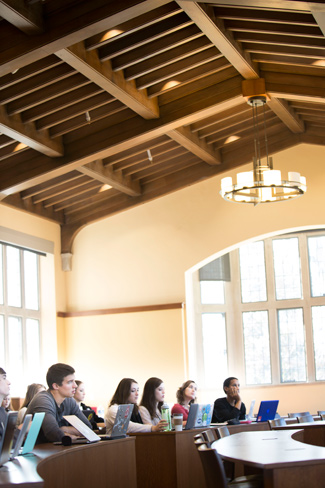 Launching a startup, protecting cultural heritage and examining the impact of LGBTQ policies are among the topics to be explored in the latest set of University Courses, which are designed to promote new and creative trans-institutional teaching and learning and advance Vanderbilt's mission.
The planetary health and LGBTQ policy classes are Multicultural University Courses, designed specifically to advance Vanderbilt's initiatives in equity, diversity and inclusion. All courses feature lectures from experts, hands-on experiential learning, innovative classroom models, guest speakers and semester-long projects.
"University Courses bring the Academic Strategic Plan to life. We are educating the leaders of tomorrow, and in these courses, they will explore big questions facing society," said Provost and Vice Chancellor for Academic Affairs Susan R. Wente. "Students will discover the rich benefits of innovative, multidisciplinary approaches as they delve deep into important topics through the coursework and as they participate in the discovery of knowledge."
The new University Courses are eligible to be offered during the 2018-19 and future academic years following approval by the relevant curriculum committees. Faculty members submitted 12 proposals, which were reviewed by either the University Courses Committee or the Multicultural Courses Committee. The 2018-19 slate of University Courses is the third round of the initiative, which began with the 2016-17 academic year. During the first two years of the program, 25 faculty members and 291 students have participated in 11 University Courses, several of which have already been offered multiple times.
The 2018-19 University Courses include:
From Academic Insight to Entrepreneurial Impact, taught by Robert Webster, associate professor of mechanical engineering and electrical engineering, with support from Marie Thursby, adjunct professor at Owen Graduate School of management; Reed Omary, the Carol D. and Henry P. Pendergrass Professor of Radiology and Radiological Sciences; and Kathleen Gould, Louise B. McGavock Professor and professor of cell and developmental biology, will team up engineering, business, law, science and medicine students to explore a technology from all angles and build innovative commercialization strategies aimed at making a winning pitch.
Cultural Heritage in Context: The Future of the Past, taught by Mireille Lee, assistant professor of the history of art, with support from Tom Dillehay, the Rebecca Webb Wilson University Distinguished Professor of Anthropology, and William Fowler, associate professor of anthropology, will explore the global threats to cultural heritage due to war, economic development and environmental changes. It should be of special interest to students in the Reserve Officers' Training Corps, since the military often engages conflicts that threaten cultural heritage.
The Ethics of Artificial Intelligence (AI), taught by Doug Fisher, associate professor of computer science and associate professor of computer engineering, with support from Haerin Shin, assistant professor of English, will explore the exponential progress of AI across e-commerce, educational and research platforms, entertainment and more, and the potential for misuse. Students will learn aspects of intelligent, computational modeling and processing, and critically reflect on their learnings.
The Causes and Consequences of LGBTQ Public Policies, taught by Kitt Carpenter, professor of economics, will introduce students to critical questions about public policies for LGBTQ populations, investigating the causes, correlates and consequences of these policies using the lenses of economics, law, sociology, political science, public health and medicine.
Planetary Health, Policy and Social Justice, taught by Carol Ziegler, assistant professor of nursing, and supported by Michael Vandenbergh, a David Daniels Allen Distinguished Professor of Law, will explore the intersections among primary health care, planetary health, climate change, social justice and policy. Students will develop evidence-based and targeted human adaptation strategies that align policy initiatives with carbon mitigation to address health-span disparities.