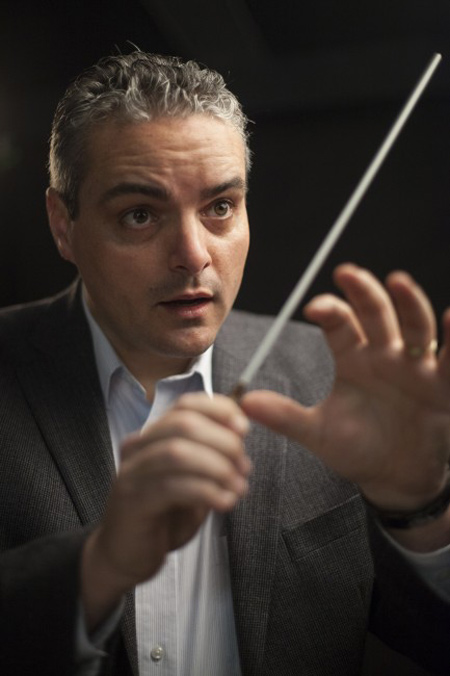 The album Music in the Listening Place, featuring the Vanderbilt Chorale and directed by Tucker Biddlecombe, has been released on Navona Records.
"One of the goals I set after arriving at the Blair School of Music six years ago was to put out in the marketplace a recording of our students—something that the Vanderbilt Chorale had never really done," said Biddlecombe, associate professor of choral activities and choral director. "Everything just came together beautifully in terms of our having the right balance of voices, students putting in that extra effort, and strong support from Blair School Dean Mark Wait and others."
Music in the Listening Place covers a wide musical period—reaching back into the 19th century and also showcasing some new choral works. In general, Biddlecombe sought a modern listening experience based on mostly classical texts.
"I was fortunate to be able to collaborate with composer and Blair colleague Michael Slayton, whose 'Three Settings of Ezra Pound' for string quartet and choir are on the album," Biddlecombe said. "They are short, engaging pieces with many dissonances and resolutions. And younger listeners might be fans of composer Eric Whitacre, who has contributed 'Three Songs of Faith,' an elegant collection of settings of e.e. cummings' poetry."
Forty-two students comprise the Vanderbilt Chorale, and many are music majors of some type, although some are focused on other disciplines. "I had a wonderful student in my alto section who would spend most of her day breaking down organic compounds," Biddlecombe said. "At 3 o'clock she would come across campus to Blair, sing for an hour, and then return to her lab."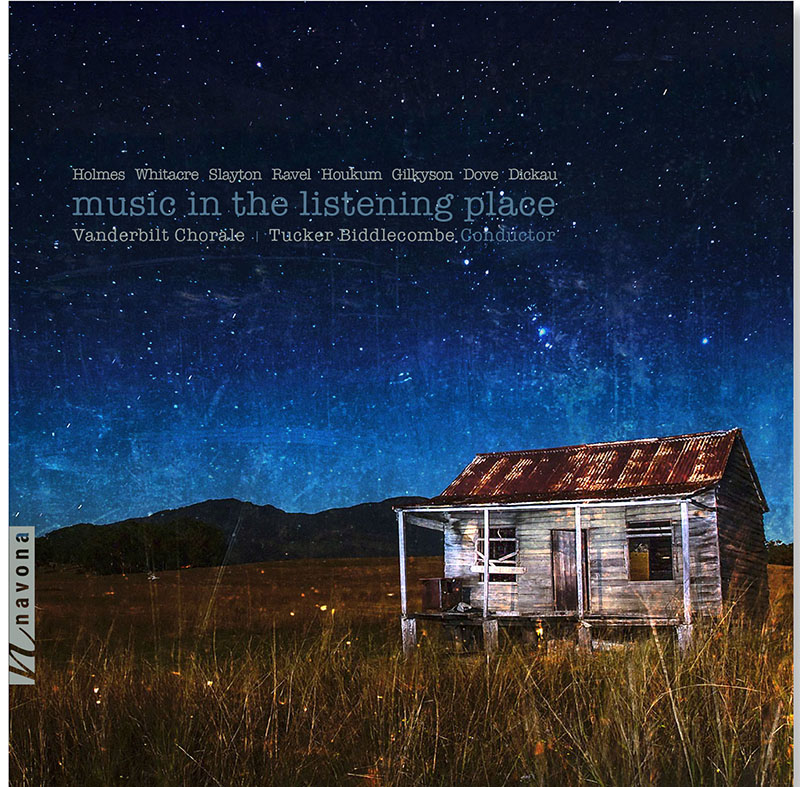 Biddlecombe noted that for about every minute of music on a CD, it takes about an hour of work in the recording studio and approximately three hours in the rehearsal room. "It's an intense effort for what ends up being a 3-by-5-inch piece of metal and plastic, but definitely worth it," he said. "The students were very engaged and showed a tremendous amount of grit—even when we were in our fourth hour of a recording session on a rainy Saturday."
He uses the analogy of a high-powered athletic event with a musical performance. "I tell my students that no one sits on the bench," he said. "Everyone is a starter, a cog, an important component of the process. In addition, choirs are an interesting microcosm of society. There are some people who have spent years and years honing their craft, while others have a natural gift to just start singing. When you combine the two, it can create a wonderful blend and balance of humanity."
Music in the Listening Place has already received several positive reviews from music publications. Textura wrote the following: "In the exquisite setting by David Dickau that caps this exceptional collection, the ensemble gloriously exults, 'If music be the food of love, sing on.' Hopefully, that can be taken as a sign that future Navona releases featuring the Chorale's vocal artistry will materialize. Given the exceptional performances featured on Music in the Listening Place, one sincerely hopes so." In addition, the webzine Kathodik gave it four and a half of five stars.
Music in the Listening Place is available on Navona Records, as well as through Spotify, iTunes and other streaming services.