Media Inquiries
Latest Stories
Kickoff event March 27 to feature bike demos and rider education
As part of its ongoing mobility and transportation strategy, Vanderbilt University is launching a six-month pilot of a dockless bike-share program beginning Tuesday, March 27.
The university is partnering with ofo, the world's first and largest dockless bike-share company, to bring 100 bikes to campus. Rides are free for the first month, and the Vanderbilt University and Vanderbilt University Medical Center communities will receive a preferred pricing rate of 50 cents per hour throughout the pilot. To celebrate the launch, a kickoff event is taking place on Alumni Lawn from 11 a.m. to 2 p.m. March 27.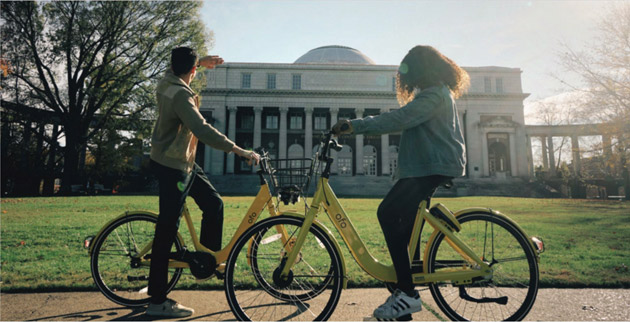 The pilot is supported by FutureVU, Vanderbilt's land-use planning initiative. During transportation working groups at the Wond'ry and other community forums, the FutureVU team received numerous recommendations to expand bike-share programs on campus.
"This partnership with ofo is an innovative step to further investigate how our community moves throughout campus," said Eric Kopstain, vice chancellor for administration. "The goals of this pilot are to determine campus interest in the program and study how it works on a small scale before considering future expansion. We also intend to gather detailed data on ofo rides to help define preferred bike routes on campus."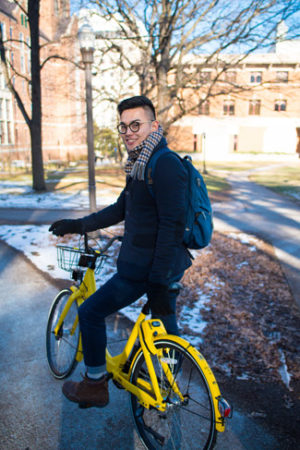 Yalun Feng, a senior majoring in environmental studies and political science, and the Vanderbilt Innovation and Social Entrepreneurship Society, brought forward the idea of partnering with ofo to Kopstain and the FutureVU team last fall.
"When I went back to China last summer, I was surprised by the emerging bike-sharing culture in megacities," Feng said. "People began to adopt a more sustainable and healthy lifestyle by using shared bikes to get around. As soon as I came back to Vanderbilt, I missed the convenience those bikes provided. Bringing ofo to campus can shape the future of mobility at Vanderbilt and benefit the overall wellbeing of the campus."
The ofo model uses a mobile application and allows for bikes to be shared among riders, removing the need for personal bikes and docking stations. To help educate riders on where best to park, Vanderbilt worked with ofo to establish a geofence boundary that outlines areas where riders can park. Rides can take place outside the boundary, but bikes should be parked within the geofence at the end of each trip. Preferred parking areas on campus are noted with green paint and a bicycle symbol.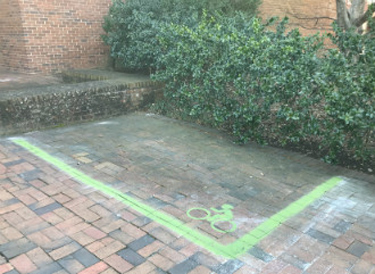 "Vanderbilt has always been a leader in environmental sustainability, and and we are thrilled to partner with a school whose values align with ofo's mission to create a more equitable, accessible and green world while promoting healthier living along the way," said Austin Marshburn, head of universities at ofo. "Their vision for the future matches ours, and we look forward to the real, positive impact our dockless bike sharing will have on the students, campus and community of Vanderbilt University."
How it works
To get started, riders simply download the ofo mobile app (available for both iOS and Android).
Find a bike: Open the app and look for bright yellow bikes near you.
Tap and scan: When you're at the bike, tap "unlock" and scan the bike's barcode to automatically unlock it. Enjoy the ride.
Park and lock: At your destination, simply park your bike anywhere on campus at a bike rack and manually lock it to end the trip.
Safety is a top priority for Vanderbilt and ofo. A patrol team provided by ofo will monitor the bikes, address maintenance issues, and relocate bikes left outside the geofence or blocking pathways. Vanderbilt's public safety and facilities teams also will assist with moving bikes as needed and will address accessibility and safety concerns.
Learn more about ofo at Vanderbilt >>