by Amy Wolf
It started with an email that Brett Benson thought was spam. Benson, an associate professor of political science specializing in Chinese politics and East Asian international relations, spends a lot of time in China, so he gets a lot of Chinese spam. When he received an email purporting to come from CCTV, China's state television network, offering him a role as a judge on a reality show he'd never heard of—he naturally ignored it.
A second email a few days later made him think it might be legitimate, however, so he Googled the show—its name translates to "Star of Outlook"—and discovered that not only is the show real, it's basically the American Idol of English contests. "In China, everybody knows what this is," Benson said. "There are some contestants for whom this is a lifelong aspiration."
In the high school division of the competition, contestants compete for an invitation to apply to one of the five judges' schools—all elite English-language institutions like Yale, University College of London, and University of Pennsylvania.
This year's panel included the University of Pennsylvania again, plus Cornell, University of Edinburgh and the College of William and Mary. "They told me they really wanted Vanderbilt on the show," he said.
Star of Outlook
"It's a country of over a billion people and there's so many really smart and competitive students from various high schools. How do you set yourself apart?"
The high schoolers had to face off against English speakers in a general knowledge quiz that required them to process information about tough questions in English, debate an English speaker on a complex topic and finally come face to face with the judges for an interview.
There were no softball questions on Star of Outlook. "For example, one student was asked about the New Deal, while another one had to solve a calculus problem," Benson said. "These kids were just exceptional."
Benson said he was looking for contestants with the same English ability as his own Chinese students here at Vanderbilt, so he tried to ask them questions that would push them away from their talking points. "I know from learning Chinese myself that it's relatively easy to talk about things that you know, or you have prepared to talk about," he said. "But once you push somebody into a vocabulary space where they might be a little bit less comfortable, then the language skill can drop off dramatically."
Judges would indicate interest in a contestant by illuminating the light at their seats. Students only received invitations to apply from the schools whose judges had turned on their lights by the end of the interview stage—but when more than one judge had their light on, the contestant could choose. "So we're competing for the students as much as they're competing for us," Benson said.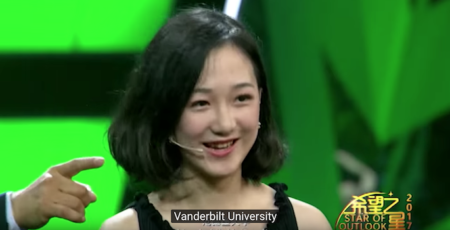 As college interviews go, it was unlike any other. "The judges would have to make a case for why their university was better than the other universities, and the contestants would have to make their choice while the lights were still on," he said.
Ivy Yang, Class of 2022
This year, only two high schoolers ended the competition with all five judges' lights on—and one was Yutian "Ivy" Yang.
During the interview, Cornell seemed to be making a strong pitch for Ivy, but Benson was determined to sell her on Vanderbilt's proximity to the Nashville music scene—and mentioned that Taylor Swift had a home here. "But I think that she had made her mind up before that," he added.
"For those who are aware of what Vanderbilt is, they really want to come here."
"I would definitely do it again," Benson said. "I'm interested in bringing the Vanderbilt name to China and I enjoyed meeting all those talented students. They were so talented."
Ivy applied early decision and will be arriving on campus this fall.
A rising star?
As for the other student who ended the competition with all five judges' lights on? Her name is Joy and she still has one more year of high school before she can apply—but she chose Vanderbilt too.