Asian Studies commemorates program's 50th anniversary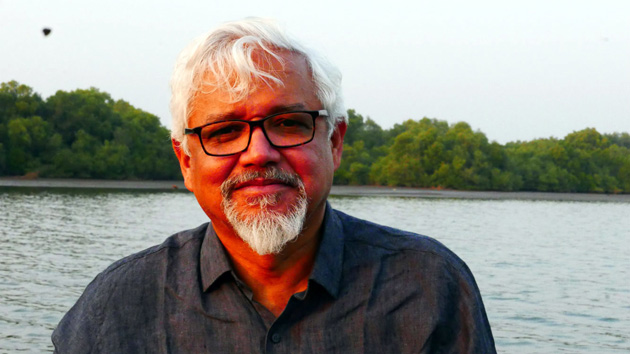 Acclaimed author Amitav Ghosh will examine how historical conflicts over resources in Asia have become a major driver of climate change in the Indian Ocean during an April 4 lecture hosted by Vanderbilt Asian Studies. The program is hosting the public talk as part of its 50th anniversary commemoration.
Ghosh will address "Embattled Earth: Commodities, Conflict and Climate Change in the Indian Ocean" at 5:30 p.m. in the Vanderbilt Central Library Community Room. He will consider whether university-based scholars have overlooked the crucial role played by empire and military supremacy in creating our current environmental crisis.
While on campus, Ghosh is scheduled to be Chancellor Nicholas S. Zeppos' guest on The Zeppos Report podcast.
Ghosh is the author of the best-selling Ibis Trilogy and his recently published The Great Derangement: Climate Change and the Unthinkable. His other books, which have been translated into more than 20 languages, include The Circle of Reason, The Shadow Lines, Dancing in Cambodia and The Calcutta Chromosome.
Ghosh was born in Kolkata and grew up in India, Bangladesh and Sri Lanka. He received a doctorate from Oxford University and has taught at universities in India and the United States, including Delhi University, Columbia University and Harvard. He currently divides his time between homes in Brooklyn, Kolkata and rural Goa.
"As a novelist and thinker, Ghosh has recently explored imperialism's entangled histories with climate change, examining how the scale and urgency of climate change compels us to rethink the past's relationship to the present," said Ruth Rogaski, associate professor of history and interim director of Asian Studies. "He writes in a wide range of styles and genres, including fiction, nonfiction and journalism. We can think of no better way to celebrate our 50th anniversary than welcoming Amitav Ghosh, whose work puts Asia at the center of global history, culture and environmental challenges."
Asian Studies explores the continent through the multiple lenses of literature, history, history of art, religious studies, political science, sociology, film and media studies, and offers language instruction in Chinese, Japanese, Hindi-Urdu, Tibetan and Korean (beginning fall 2018). The faculty's expertise spans widely across Asian regions, encompassing China, Japan, Korea, India, Bangladesh and Vietnam.
A reception and book signing will follow the lecture. Seating is on a first-come, first-seated basis. Free parking will be available at Wesley Place Garage. For more information, visit the Asian Studies website.