Media Inquiries
Latest Stories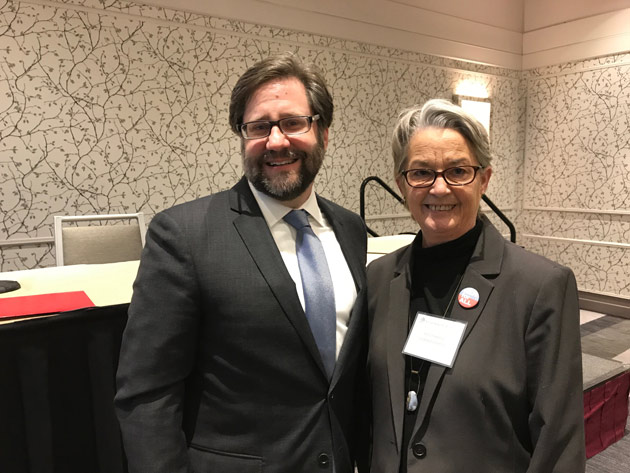 Mona Frederick, executive director of the Robert Penn Warren Center for the Humanities, and Christina West, assistant vice chancellor for federal relations, attended the National Humanities Alliance's annual meeting and advocacy day March 12 in Washington, D.C., and met with members of Tennessee's congressional delegation as well as several other congressional offices with ties to Vanderbilt to advocate for robust federal humanities funding through the National Endowment for the Humanities (NEH).
"We are grateful to have such strong support for the NEH on Capitol Hill," Frederick said. "It's important to remind our members of Congress of the importance of the Endowment and to thank them for their continued support."
This year's keynote speaker at the NHA meeting was Jon Parrish Peede, senior deputy chairman of the National Endowment for the Humanities, who recently was nominated by President Donald Trump to serve as NEH chairman. Before joining the NEH, Peede served as publisher of the Virginia Quarterly Review from 2011 to 2016 and was on the staff of the National Endowment for the Arts from 2003 to 2011. A Vanderbilt University alumnus, Peede graduated in 1991 with a bachelor's degree in English and later earned a master's degree in Southern studies from the University of Mississippi.
"The NEH has been such an important partner when it comes to academic research in the humanities—research that has enriched and enhanced communities throughout the nation and throughout Tennessee," West said. "We look forward to a continued mutually beneficial relationship with the NEH."
While meeting with legislators, Frederick discussed some of the humanities programs hosted by the Warren Center, including multiple panels on the importance of storytelling during the 2017 Southern Festival of Books. The Warren Center hosts a variety of programs, seminars and reading groups throughout the year covering a wide array of topics. In 1989, the Warren Center was the recipient of a $480,000 Challenge Grant from the National Endowment for the Humanities. These funds plus matching dollars raised by the university have ensured the permanence of the Warren Center on Vanderbilt's campus.
The National Humanities Alliance is an advocacy organization based in Washington, D.C., that is dedicated to the advancement of humanities education, research, preservation and public programs.