---
---
After the 2016 GOP presidential primary race, former Hewlett-Packard executive Carly Fiorina refocused her energy toward equipping leaders from all walks of life.
Fiorina discusses her leadership philosophy with Vanderbilt Chancellor Nicholas S. Zeppos on the latest episode of The Zeppos Report. She visited campus Feb. 20 to participate in a Chancellor's Lecture titled "Redefining Leadership: Crafting Civic Virtues in America."
"Leaders don't worry about winning or losing, leaders focus on solving problems and improving the circumstances," Fiorina said.
On the podcast, Fiorina explains how her new project, the Unlocking Potential Foundation, strengthens the core elements of American civil society. The foundation works to empower and train the leaders of nonprofit organizations. She also argues that equity, diversity and inclusion are essential elements for success.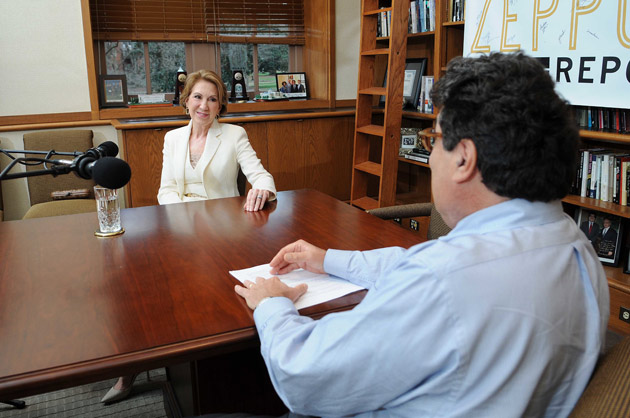 "Diversity isn't a nice 'to do' anymore. If you really want to be successful, you better have a diverse workforce. You're going to miss something really big and important unless you have a diverse set of opinions and points of view," Fiorina said.
Throughout the conversation, Zeppos and Fiorina dive deeply into the key elements necessary for engaged citizenship to flourish in America. They agree that while technology has allowed for more activity and political discourse, it also may be encouraging civic passivity. Zeppos points out that institutions like universities provide the bedrock for a healthy democracy.
"There must be a focus on more than just the government or the individual—intermediary institutions like universities, churches and libraries must be nourished, too. We are the bulwarks for liberty," Zeppos said.
When asked about running for office again, Fiorina leaves the door open. "Never say never. I have no regrets about my run," Fiorina said. "We'll see what the future holds."
The podcast is available on SoundCloud, Stitcher, Google Play, iTunes, YouTube and The Zeppos Report website.
Read a transcript of the podcast featuring Carly Fiorina. >>