Courage and determination runs through the veins of two-time Paralympian and Vanderbilt professor Anjali Forber-Pratt. She lives by the motto "dream, drive, do." Now she's using her drive to succeed in research, advocacy and mentoring dedicated to disability rights.
Forber-Pratt, assistant professor of human and organizational development at Vanderbilt's Peabody College of education and human development, earned two bronze medals after participating in the 2008 Paralympic Games in Beijing, China, and the 2012 Paralympic Games in London.
But those successes came after pushing through a lot of adversity.
"There are many times I look back on my life where I probably shouldn't have made it," Forber-Pratt said. "I was abandoned as a baby, and shortly after I was adopted I acquired my disability, which led to my paralysis. There's a lot of times that the world kind of showed their hand, in some ways giving up on me, (but) somehow, from within myself, there's always been that desire to fight and desire to drive."
Early inspiration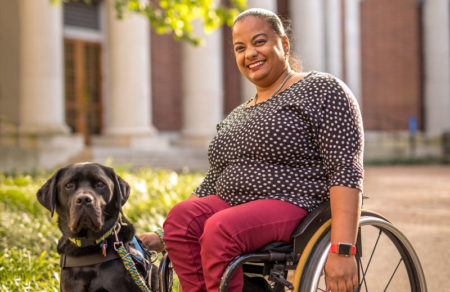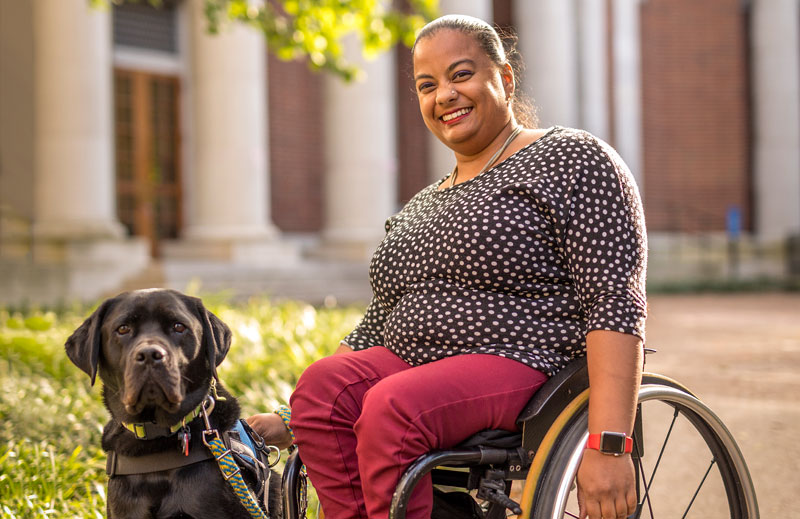 Forber-Pratt says her sports dreams first emerged after watching the Boston Marathon and seeing people racing in wheelchairs.
"I was just truly blown away, and I begged and pleaded with my parents to let me get involved in sport," she said.
Forber-Pratt's parents found a Saturday sports program for kids with disabilities.
"I fell in love with wheelchair racing and downhill skiing, and as I got older started competing in Alpine skiing, slalom and super G," she said.
Olympic dreams realized
Into college and graduate school, she elevated that drive in back-to-back summer Paralympic games and a dedication to the Paralympic movement.
"I remember going into the stadium for my very first games in Beijing and there were 91,000 fans in the stadium all there to support our dream," Forber-Pratt said.
Identity research
That passion is now what drives Forber-Pratt's research in disability identity development. She describes it as how people with disabilities from birth or newly acquired disabilities view their impairment as being a part of who they are.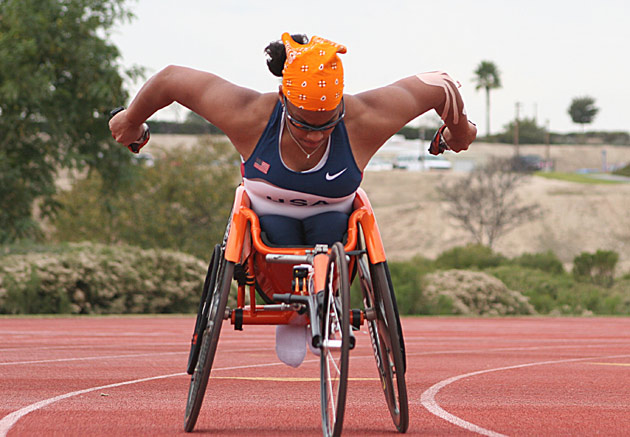 "Individuals with disabilities often don't have somebody who shares that same identity within their nuclear family," Forber-Pratt said. "Similar to LGBT populations, people with disabilities have to find that community first."
Part of Forber-Pratt's identity research examines the role that sports may play as individuals develop their identities.
Global catalyst for change
Forber-Pratt is also working to raise civil rights protections for people with disabilities around the globe. She recently spoke in South Korea about the Olympic and Paralympic movements. Her talk, "The Parallel Movement: A Paralympic Push for Inclusion and Policy," highlighted her work in disability identity as well as elements of her personal story as an athlete, advocate, mentor and researcher.
"I was able to share research from work that I've done in Bermuda, Ghana and Zambia in particular to help to grow and develop their Paralympic sport programs and show how that can be a catalyst for social change," she said.
From the Olympic stage to excelling in higher education, Forber-Pratt strives to be a teacher and mentor.
"What it comes down to is the power of role models," Forber-Pratt said. "I was 5 years old when I first saw a woman with disabilities competing in sport. And it opened my world to this whole world of possibilities and taught me that I could be something."