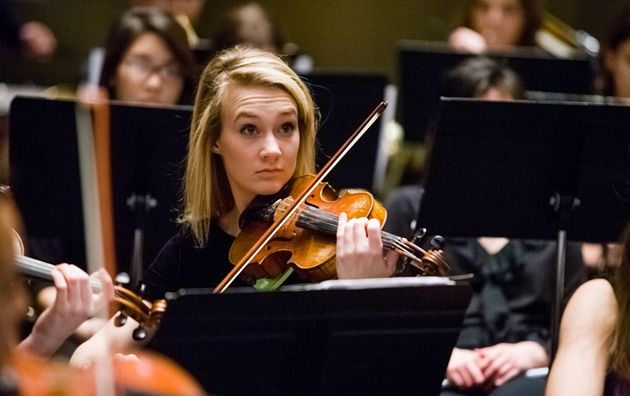 The Blair School of Music invites students in grades 1-12 to apply and audition for merit and need-based scholarships for private lesson instruction during the 2018-19 academic year.
Auditions will be held in late March and throughout April in piano, strings, woodwinds, brass, voice and folk instruments.
Blair understands that each child is unique. Private lessons allow a teacher to focus completely on a student's needs, as Blair has done for more than 50 years.
Blair offers a robust need- and merit-based scholarship program that provides partial and—in some cases—full tuition for private lessons. Students from grades 1-12 may receive scholarships. Awards are made annually based on need, dedication and potential.
Download the audition application form and submit it by March 23.
Auditions will be held by appointment on these dates:
Brass – March 24
Percussion – April 7
Strings – April 7
Woodwinds – April 15
Piano, grades 1-7 (rising) – April 21
Piano, grades 8-12 (rising) – April 28
Folk instruments (fiddle, mandolin, dulcimer) – by appointment
Voice, grades 8-12 – by appointment
More information and the audition application form can be found on the Blair School website. Please call (615) 322-7651 if you have questions.