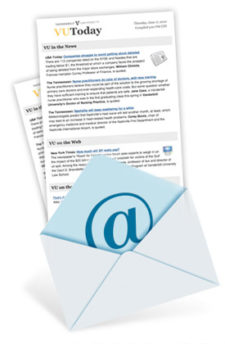 The Vanderbilt University Division of Communications publishes "VUToday," a compilation of Vanderbilt mentions in the media, three times per week. Read a selection of Vanderbilt news stories for the week of Feb. 26.
CNN: Slow food? Let's try slow college
Chancellor Nicholas S. Zeppos discusses the importance of providing the spaces, time and intentional academic programming that serves to educate the whole person. CNN International also featured this piece.
The Tennessean: Ten years in, Vanderbilt University's Nicholas Zeppos has increasingly weighed in on big national issues
Vanderbilt celebrates 10 years with Chancellor Nicholas S. Zeppos acting as the voice of the campus. Zeppos and Lucius Outlaw, professor of philosophy, are quoted.
The Tennessean: Exclusive: Mayor Barry's job approval rating drops but remains strong, new poll finds
The Vanderbilt Poll released Tuesday found Mayor Megan Barry's approval rating has dropped 11 percentage points in the past year, but she remains widely popular even after admitting to an extramarital affair. John Geer, vice provost for academic and strategic affairs and Gertrude Conaway Vanderbilt Professor of Political Science, is quoted.
Time: 'Our lives are at stake.' How Donald Trump inadvertently sparked a new disability rights movement
Anjali Forber-Pratt, assistant professor of human and organizational development, is quoted.
The Washington Post: The Health 202: Here's one reason the Florida shooter wasn't blocked from getting a gun
Christopher Slobogin, Milton R. Underwood Professor of Law, is quoted.