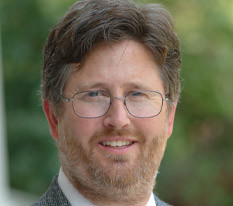 Robert T. Jiménez is among 11 scholars selected as 2018 fellows by the American Educational Research Association (AERA). The fellowship is one of the highest honors in the field of education.
Jiménez is professor of language, literacy and culture in the Department of Teaching and Learning at Vanderbilt University's Peabody College of education and human development. He is a leading scholar in the field of reading and literacy education of Latinx students and non-native English speakers. His work has broken new ground and established new understandings of how bilingual readers learn, suggesting new ways to improve pedagogy and strengthen learning for diverse learners.
"Robert Jiménez's studies of Mesoamerican literacies have been foundational to the field," said Camilla P. Benbow, Patricia and Rodes Hart Dean of Education and Human Development. "Through case studies, he has shown how diverse cultural materials can be used by teachers to engage students and improve literacy. This has led to new designs for teacher preparation and professional development for teachers who work with language learners. He is highly deserving of this recognition."
Jiménez is a past president of the Literacy Research Association and a 2015 inductee to the Reading Hall of Fame. Along with Peabody Associate Professor Amanda Goodwin, he edits Reading Research Quarterly, a leading academic journal of literacy studies.
The 2018 fellows were nominated by their peers, selected by the AERA Fellows Committee, and approved by the AERA Council, the association's elected governing body. They will be inducted Saturday, April 14, during the 2018 AERA Annual Meeting in New York City. They join 644 current AERA fellows.
Jiménez is the 14th Peabody faculty member to become an AERA fellow. The others are Camilla Benbow, Paul Cobb, David Dickinson, Dale Farran, Douglas Fuchs, Lynn Fuchs, Ellen Goldring, Rogers Hall, Carolyn J. Heinrich, Gary Henry, Richard Lehrer, Joseph Murphy and Daniel Reschly.
The AERA is the largest national interdisciplinary research association devoted to the scientific study of education and learning.