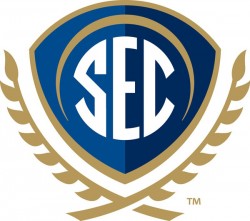 The 2018 SEC Academic Conference will focus on cyber security and includes a keynote address by Adm. Michael S. Rogers, United States Navy; commander, United States Cyber Command; director, National Security Agency; and chief, Central Security Service.
The conference, "Cyber Security: A Shared Responsibility," is scheduled for April 8-10 at Auburn University and will explore computer and communication technology, the economic and physical systems that are controlled by technology, and the policies and laws that govern and protect information that is stored, transmitted and processed with technology.
"This year's SEC Academic Conference is a great opportunity for us to help enrich collaboration among SEC students, faculty and administrators in a critical area of national importance," SEC Commissioner Greg Sankey said. "Auburn leaders have worked tirelessly to develop a program that will challenge and encourage those in this field, and I commend them for their efforts."
In its second year, the SEC Academic Conference provides an opportunity to showcase SEC faculty and student research in an area of significant scholarly interest to a range of academic, legislative and other stakeholders. It features keynote speakers as well as presentations from individuals representing each of the SEC's 14 member universities.
Other keynote addresses at the conference will feature Andrew Case, director of research at Volexity; Glenn Gaffney, executive vice president, In‐Q‐Tel; Bill Newhouse, deputy director of the National Initiative for Cybersecurity Education (NICE) at the National Institute of Standards and Technology (NIST); and Ray Rothrock, chairman and CEO of RedSeal.
"The nation is facing more and more data breaches that affect all facets of daily life," Auburn University President Steven Leath said. "Strategic partnerships among universities and industry are vital in developing the technology and policies to protect private information."
The conference will start with the SEC CyberChallenge, where students from each SEC university will compete in a problem-solving activity. Other undergraduate and graduate students also will have the opportunity to showcase their research during a poster exhibition.
For more information, visit the 2018 SEC Academic Conference website.