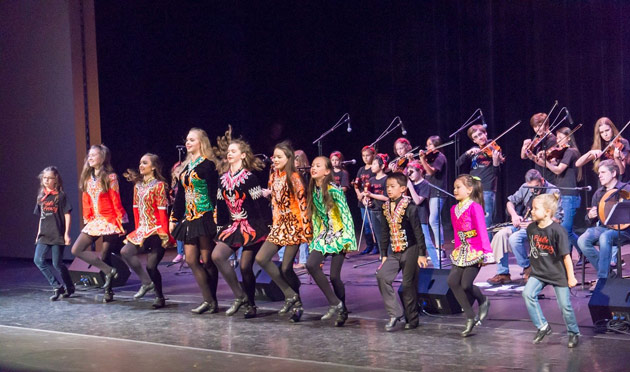 Fiddlers, pipers and dancers, including Blair School of Music faculty and top-level folk guest performers, will pay tribute to their Irish and Scottish musical roots Saturday, March 3, at Blair's Ingram Hall.
The Celtic Celebration, which is free and open to the public, is the kickoff for the Music City Irishfest. Donations will be collected at the door for the Fiddle Frenzy Scotland tour fund.
The lobby will open at 6 p.m. for a silent auction accompanied by musical and dancing performances. The show will begin at 7 p.m.
"The Celtic Celebration is a lot like an 'Irish-Scottish opry,'" said Crystal Plohman Wiegman, who is directing the festival for the third consecutive year. "I look forward to playing with this amazing group of musicians." She is a senior teaching artist of fiddling and Suzuki violin at the Blair School who is a Canadian champion fiddler.
Performers will include Eamonn Dillon, an uilleann piper and whistle player whose music has been featured in several films and television programs; Candace Corrigan, a singer-songwriter who has written award-winning productions for public radio and television; John Mock, composer, arranger and multi-instrumentalist; members of the Willis Clan, who have their own show on TLC; and Rob Ickes, a world-renowned dobro player who has performed with Cherish the Ladies, an all-woman Irish ensemble.
"Ickes, who was part of the critically acclaimed Country Crossroads album, is among our participating musicians that bring a wonderful Nashville flavor to the Celtic tunes," Wiegman said.
Ickes' daughter, Janelle, is a member of Fiddle Frenzy, a pre-collegiate group at Blair that will perform Saturday. In addition, the young fiddlers have been invited to the prestigious Stirling Bridge International Arts Festival in Scotland this summer. Donations collected at the Celtic Celebration will help support their overseas trip.
"Fiddle Frenzy has been a wonderful learning experience for my daughter, who now knows that music can literally take you all over the world and help you experience other cultures," Ickes said.
Wiegman noted that a Blair pre-collegiate student will honor the memory of Jerome "Butch" Baldassari, a Blair faculty member who died in 2009 after a courageous battle with brain cancer, by performing on one of his mandolins.
The Celtic Celebration began years ago as an annual showcase of Appalachian music with Baldasarri, the late David Schnaufer and others in Blair's folk program joined by guest performers. Wiegman, who grew up playing Irish and Scottish music, has been excited to add an emphasis on Celtic culture to the event.
Parking is available for free in West Garage (2500 Children's Way) through the Children's Way entrance. For more information, email Christine Claffey or call 615-322-7508.