Heavy Hitters: Baseball program ranked No. 2 nationally
Feb. 26, 2018, 2:38 PM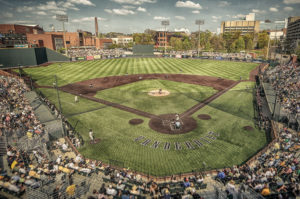 D1Baseball.com has named Vanderbilt the No. 2 college baseball program in the country, behind fellow SEC East rival Florida, in its biannual top-100 rankings.
The rankings started in 2015 with the goal of identifying programs in the best shape in the current college baseball landscape, as well as keeping an eye on the next five to 10 years. The inaugural 2015 rankings placed the Commodores in the top spot after a 2014 national championship and 2015 national runner-up finish. The 'Dores posted 43 wins in 2016 and went 36–25–1 last year before the season came to an end in another NCAA Super Regional.
D1Baseball.com says of the program: "Vandy players form a very special connection with each other and with Head Coach Tim Corbin, his family and his staff, because Corbin has created a true family culture that prizes serving others above serving oneself."
Vanderbilt also boasts the best incoming recruiting class in the country, according to Baseball America. The 2017 class features 10 pitchers and seven position players who are suiting up for the 'Dores this season.
It is the fifth time the publication has named Vanderbilt as having the No. 1 recruiting class and the 13th straight year in which the 'Dores have had a top-25 class—both Baseball America records. In addition, 10 of the incoming freshmen are on the 2017 BA500, which ranks the best 500 players in the draft class—another Baseball America record for a single school.
The Commodores opened their 2018 season Feb. 16 at Hawkins Field in a three-game series against Duke.
---