By GayNelle Doll
When obituaries started appearing about Lord Charles Spencer-Churchill after he died in late 2016, they often mentioned his time at Vanderbilt. As it happens, Spencer-Churchill, '63, a great-great-grandson of Cornelius Vanderbilt and a son of the 10th duke of Marlborough, marked the last direct link between Vanderbilt University and its founder.
Since the 1700s, Spencer-Churchill's family has lived at Blenheim Palace, the largest private home in Britain. Formally named Charles George William Colin Spencer, he was born in one hotel and died in another. Between the two events, he attended Eton and Vanderbilt, acquired three wives, sired three more Spencer-Churchills, raced horses, launched a line of men's suits, tirelessly promoted Blenheim, and led the sort of life that fascinates Americans with an insatiable appetite for British peerages and palaces.
His nickname was "Nutty," which helped distinguish him from a multitude of forbears also named Charles. He was a relative of Winston Churchill and Diana, Princess of Wales. And he was a Vanderbilt through his grandmother, American heiress Consuelo Vanderbilt, daughter of William Kissam and Alva Vanderbilt.
Consuelo's 1895 marriage to Charles Richard John Spencer-Churchill, 9th duke of Marlborough, made her a duchess and provided a dowry that kept Blenheim afloat. Theirs has been described as one of the most unhappy and blatantly arranged marriages in history. One of Blenheim's treasures was a 100-pound silver centerpiece depicting Marlborough ancestor John Churchill victorious in battle. Consuelo called it her cache-mari ["hide the husband"], using it to block her view of the duke at the dinner table.
The union nonetheless produced two sons. The elder, John Albert William Spencer-Churchill, became the 10th duke of Marlborough.
Our man, Charles, was the last of five children resulting from the 10th duke's marriage to the Hon. Alexandra Mary Cadogan. A year before Charles' birth, his parents gave his eldest sister, Lady Sarah, a magnificent ball with 900 guests, which would be Blenheim's last great prewar event. By the time Charles was born in July 1940, Blenheim was housing 400 Malvern schoolboys displaced by war. Charles' birth took place at the Dorchester Hotel in London, which was considered one of the safest buildings.
It would later be said that Adolf Hitler ordered his air force to hold fire on Blenheim because he planned to make it his own.
At age 14, Charles made his first visit to America to stay with his grandmother. By then Consuelo had long ago divorced the duke, remarried, and had homes in New York, Southampton and Palm Beach.
Consuelo's brother—Charles' great-uncle Harold Stirling Vanderbilt—was then president of the Vanderbilt University Board of Trust. He also was one of the most generous supporters in university history, three-time winner of the America's Cup yacht race, and the inventor of contract bridge.
After attending Eton, Charles enrolled at Vanderbilt University beginning with the 1959–60 school year. The entire campus would have fit into a corner of the Blenheim estate, and was still very much a Southern university in a segregated South.
Tall (6-foot-6), dark and handsome, Charles studied political science, pledged Beta Theta Pi, played bridge, and ran for a seat on the Vanderbilt student senate. But he would leave Vanderbilt without a degree at the end of his junior year. His mother died in 1961; Consuelo died three years later.
By then Charles was working as a London insurance broker. While at the Ascot races in 1964, he met 17-year-old Texas oil and sugar heiress Gillian Spreckels Fuller. They married in New York a year later. The marriage lasted three years.
In 1970, Charles married for a second time, to Elizabeth Jane Wyndham, a flatmate of Camilla Rosemary Shand—or, as she's better known today, Camilla, duchess of Cornwall, and wife of Prince Charles. Jane and Charles Spencer-Churchill had three sons together. Jane Churchill, as she became known, would become one of Britain's leading interior designers.
Charles, meanwhile, lent his name to a line of men's suits, the "Lord Charles Churchill Line," which he promoted throughout America, including in a memorable appearance on The Tonight Show with Johnny Carson. He worked as a director of Clark, Nelson, which handled publicity for Blenheim Palace, among other historic sites. Although the ancestral estate would go to his older brother, preserving and promoting Blenheim became central to Charles' work, too. The massive estate, birthplace of Winston Churchill, has in recent years diversified to offer everything from pop concerts to its own bottled water, and frequently is used as a wedding site and film location.
As recently as 2014, when the Vanderbilt Travel Program sponsored a tour of Oxford and the English countryside, Charles Spencer-Churchill was on hand to greet the Vanderbilt group and give a personal tour.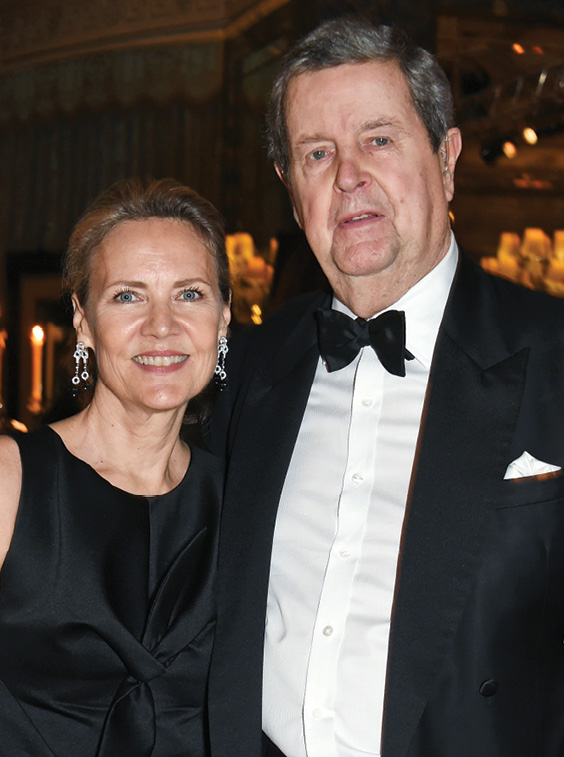 "He was a flamboyant chap, the sort who knew everybody, whether it was Barry Gibb from the Bee Gees or the local hotel manager," friend and fellow horse-racing enthusiast Teddy Grimthorpe told the Racing Post last year. "He was very good on his hind feet. He could stand up, no notes prepared, and deliver an excellent speech."
Charles and Jane separated in the mid-1990s, and he spent his last years with Sarah Goodbody, daughter of former Thoroughbred Breeders' Association president Michael Goodbody. They married in 2014.
When he died of cancer Dec. 21, 2016, in a suite at London's Jumeirah Carlton Tower, Lord Charles Spencer-Churchill left just £37,000 in his will—a pittance compared to that of his brother the duke, who left £29.1 million upon his 2014 death.
But his was a life rich in experience. Who else but "Nutty" could have celebrated his 70th birthday by inviting both his then-girlfriend, Sarah Goodbody, and his two ex-wives to a birthday bash thrown by his three sons?
"One never tends to enjoy one's own parties, but this one I really did," said the birthday boy. "It was old-fashioned and fun."
---
GayNelle Doll, a native Iowan, is the former editor of Vanderbilt Magazine. After nearly 30 years as an editor and manager of Vanderbilt publications, she retired in 2015 and continues to live in Nashville.
---