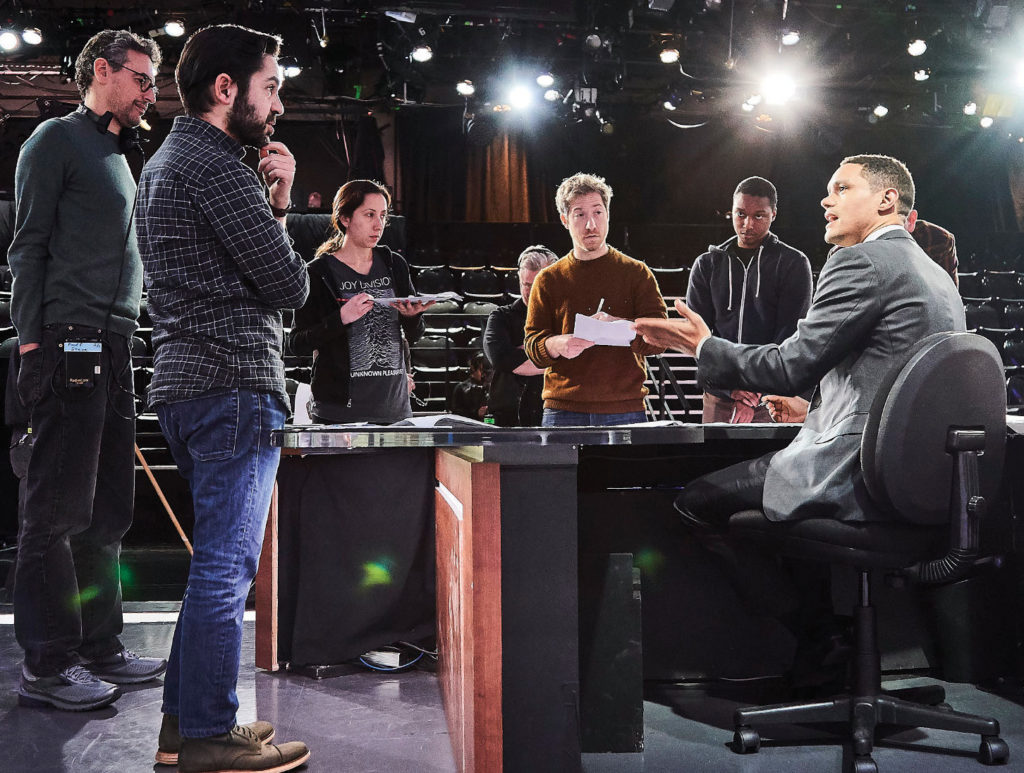 Zhubin Parang, BS'03, always wanted to work in politics. And he does—in a way. But instead of taking a job on Capitol Hill or working for the Democratic Party, like he imagined, Parang writes jokes about politicians. Lots of them.
As head writer for Comedy Central's The Daily Show with Trevor Noah, Parang is tasked with writing (and rewriting) each episode's jokes in President Trump's rapidly changing news cycle. Channeling Sarah Palin in her 2008 interview with Katie Couric, Parang quips, "All the newspapers, I read them."
The Knoxville, Tennessee, native double-majored in political science and sociology at Vanderbilt while simultaneously pursuing his love of comedy as a member of Tongue 'N' Cheek, the campus improv troupe. After graduation Parang earned his law degree from Georgetown University and got involved in the D.C. comedy circuit. Afterward, while practicing law for four years in New York City, he moonlighted as a comedian.
"The longer I pursued my law career, the less I liked it and the more I liked my hobby," says Parang, who committed to comedy full time in 2010 and was named to Vanderbilt's Student Media Hall of Fame last fall.
Beginning as a writer on a syndicated show called Late Night Republic, he quickly caught the attention of The Daily Show with Jon Stewart. He won two Emmys for Outstanding Writing for a Variety Series as part of Stewart's writing staff and, in 2015, became Noah's head writer when the South African host took over the show.
"I am fairly flexible and can move on a dime," Parang says, which is more important than ever in the Trump era. "The pace of his news cycle has accelerated everything, and we've had to adjust to that pace," he says. "We have to write three scripts a day instead of one."
Here are his five tips for writing a joke:
1.  FIND THE 'HUH' FACTOR.
"I find that comedy arises out of logical inconsistencies or a premise that surprisingly deviates from expectations," Parang says. As an example, he suggests situations that don't go the way they should, or people who respond to an event or idea in a different way than they should. Shedding light on those errors will get a laugh. If you're trying to think of something funny, Parang suggests asking, "What about a particular topic feels weird or strange or interesting or dumb to you? That visceral 'huh …' usually means something isn't working the way you think it should," he says, "and that's a comedic vein you can mine."
2.  DON'T OVERTHINK IT.
"You have to write a first draft very quickly without hemming and hawing," Parang says. "It may be intimidating to be confronted with a blank sheet of paper, and it's easy to get distracted or bogged down in editing as you write, but resist overthinking or second-guessing. Just get it all down."
3.  LAUGH, THEN TIGHTEN.
Read the joke again, and ask yourself what about it made you laugh. Look at it objectively, and determine which parts of it serve your idea and which parts don't. Then figure out how to make it better. "You always need to tighten, tighten, tighten," Parang says. "Every first draft has way too many words, extra thoughts or side ideas." He says most of his rewriting process involves slimming down his joke and setup until it's as tightly expressed as possible.
4.  ROAD-TEST IT.
"Quickly put the joke out on Twitter, say it to a crowd, or deliver it to an audience," Parang suggests. "That's the only way you'll know if you've written a good joke. If it works, by all means keep using it! Only with different people, though. Nobody likes hearing the same joke twice."
5.  MOVE ON, EVEN IF YOU BOMB.
"Once you've said it, let it go," Parang says. "Think about it, express it and move on." If you're the only one who thinks it's funny, don't despair. A lot of jokes bomb, says Parang, who has developed a thick skin. "There are jokes that destroy the entire room in rehearsal but bomb in front of a full audience."
–ELIZABETH COOK JENKINS, BS'99