Engineering Leadership: Vanderbilt joins innovative Clark Scholars program
Feb. 26, 2018, 2:42 PM
By Ryan Underwood, BA'96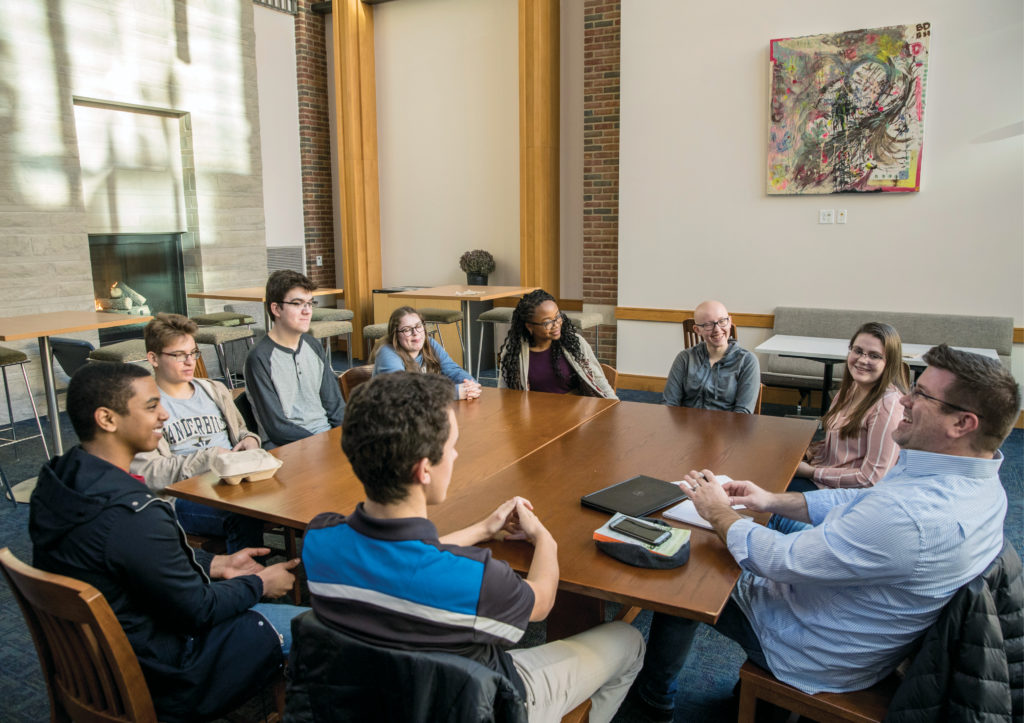 On a Friday afternoon in mid-January, a group of students gathered in a sun-drenched great room of the Warren and Moore residential colleges, huddled in discussion with a professor as a fireplace crackled nearby. Like a Norman Rockwell tableau depicting college life, it could have been anything from a small seminar class to an impromptu bull session with a faculty member.
In fact, it was a new kind of gathering altogether. Members of Vanderbilt's inaugural A. James Clark Scholars Program, which offers financial aid each year to 10 engineering undergraduates who have demonstrated a commitment to business leadership and civic engagement, meet like this every week—always in a new spot, so they get to know campus better.
Part career advising, part academic mentoring—with a dose of socializing thrown in—this gathering of Clark Scholars covered everything from summer internship possibilities to the importance of staying focused on second-semester lab work.
"Does everyone have summer housing lined up?" asked Professor of the Practice of Engineering Management Christopher Rowe, BE'96, ME'98, EdD'08—the program's faculty director—before offering tips on how to line up letters of recommendation for a NASA program and swapping New Year's Eve stories.
It was, perhaps, exactly the kind of scene that the late Jim Clark had in mind when he began funding college scholarships at universities across the United States through his charitable foundation.
"That's how this whole program started with Clark Scholars—because my dad went to college on a scholarship," says Courtney Clark Pastrick, board chair of the A. James & Alice B. Clark Foundation, member of the Vanderbilt Board of Trust, and parent of three children, all of whom graduated from Vanderbilt. "His success started because somebody believed in him."
Clark died in March 2015 at the age of 87. According to an obituary in the Washington Post, he had dreamed of attending architecture school at an Ivy League university, but his parents didn't have the money to send him. Instead, he earned an engineering degree from the University of Maryland and went on to lead the Clark Construction Group, whose projects include a wide range of marquee buildings, from L'Enfant Plaza in Washington, D.C., to Nashville's new Music City Center.
Vanderbilt is among what will ultimately be 10 schools that offer the Clark Scholars Program, following the foundation's commitment of $15 million to the university in early 2017. Other Clark Scholars campuses include George Washington, Johns Hopkins, Stevens Institute of Technology, University of Maryland, University of Pennsylvania, University of Virginia and Virginia Tech.
"I think of you as my Rhodes Scholars," Chancellor Nicholas S. Zeppos said at a dinner last November honoring the students, Pastrick and the Clark Foundation. The chancellor noted that the Vanderbilt students will join a larger network of prestigious Clark Scholars from other top schools in the same way that Rhodes or Fulbright scholars forge a common connection. "You are the Clark Scholars at Vanderbilt," Zeppos noted, "but you are part of an engineering army of leaders."
FROM EXPLORATION TO ACHIEVEMENT
The program is designed to offer exceptional students with financial need a unique undergraduate experience that includes hands-on learning, rigorous coursework, mentoring and summer work opportunities. In many ways the Clark Scholars Program expands on past gifts the company has given to support Opportunity Vanderbilt, the university's pioneering financial aid program that replaces loans with grants and scholarships.
"Time and time again, we have turned to engineers to solve great problems facing society. There's a renewed vigor at Vanderbilt for innovation and entrepreneurship," said School of Engineering Dean Philippe Fauchet when the program was announced. "The continued strength and ascent of the School of Engineering, combined with the strategic design of this program, will position Clark Scholars to facilitate great change."
Vanderbilt's Clark Scholars Program will continue to add students each year, bringing the total to 40 by 2021. In the meantime, the first cohort of Clark Scholars has spent the past year getting to know each other, exploring possible routes within engineering, and preparing for a guaranteed immersive experience on campus this summer—or in their hometowns, if they secure a position. Several students are already lining up jobs at Vanderbilt's Wond'ry at the Innovation Pavilion, the university's cross-disciplinary creative space, as well as various engineering research labs on campus. Others are eyeing competitive internships in government or private industry, undeterred that first-year students usually don't obtain these positions.
"When I was looking at colleges, I wasn't sure how I would be able to combine my passion for engineering with business because those seem like two different fields," says Monika Wojnowski, a first-year student and Clark Scholar who is interested in biomedical engineering. "I think this program will really help me explore different options."
By their second year, Clark Scholars will begin honing their leadership skills. All students in the program will enroll in a leadership development course offered by the School of Engineering or through the Hoogland Undergraduate Business program. They also will participate in a semester-long service project organized by Vanderbilt's Office of Active Citizenship and Service in partnership with the Nashville mayor's office. Projects will focus on topics ranging from refugee and immigration issues to "food deserts" and neighborhood gentrification.
"Perhaps the most important leadership component students will face during their second year will be the mentoring of the incoming class of Clark Scholars," says Rowe, who also serves the School of Engineering as director of its Division of General Engineering and director of communications. "For many of these students, having a mentor to help navigate their undergraduate years will be critical. At the same time, they also must learn how to mentor others."
With a broad academic and leadership foundation in place, during their third year Clark Scholars will begin to refine their professional interests and work with Vanderbilt's Career Center to translate their skills into job prospects. This work will include résumé reviews and interview coaching. Students interested in pursuing graduate studies will be paired with the appropriate advisers. It's also the year that Vanderbilt's Clark Scholars get a chance to network with their counterparts at other schools through a planned Clark Scholars Summit.
Meeting people who share similar interests already has made an impression on Jeremiah Woldabezgi, a Clark Scholar who intends to major in computer science. "Back home it felt like I was the only person with any interest in computer science," he says. "At Vanderbilt, even my roommate is interested in it. I find like-minded individuals everywhere here."
The final year of the Clark Scholars Program can be thought of as putting the finishing touches on launching a career. Students will be encouraged to take the Fundamentals of Engineering (FE) exam, generally the first step to becoming a fully licensed professional engineer, if it is relevant to their field of study or career plans. In addition, students will focus on their senior design projects and enroll in an accounting class. The School of Engineering will host a personal wealth management seminar—similar to a popular course for seniors that's already offered—designed specifically for Clark Scholars.
While much of the Clark Scholars Program is focused on launching a professional career, Pastrick says it's important that students not chase a glamorous job simply because it seems like the right thing to do.
"My dad would have told the students to follow their dreams," she says. "Do what you love to do, and success will follow—but most important, give back to your community. That was one of the mantras I grew up with, and that's one of the values we try to impart to Clark Scholars."
---
Transformative Power: The A. James & Alice B. Clark Foundation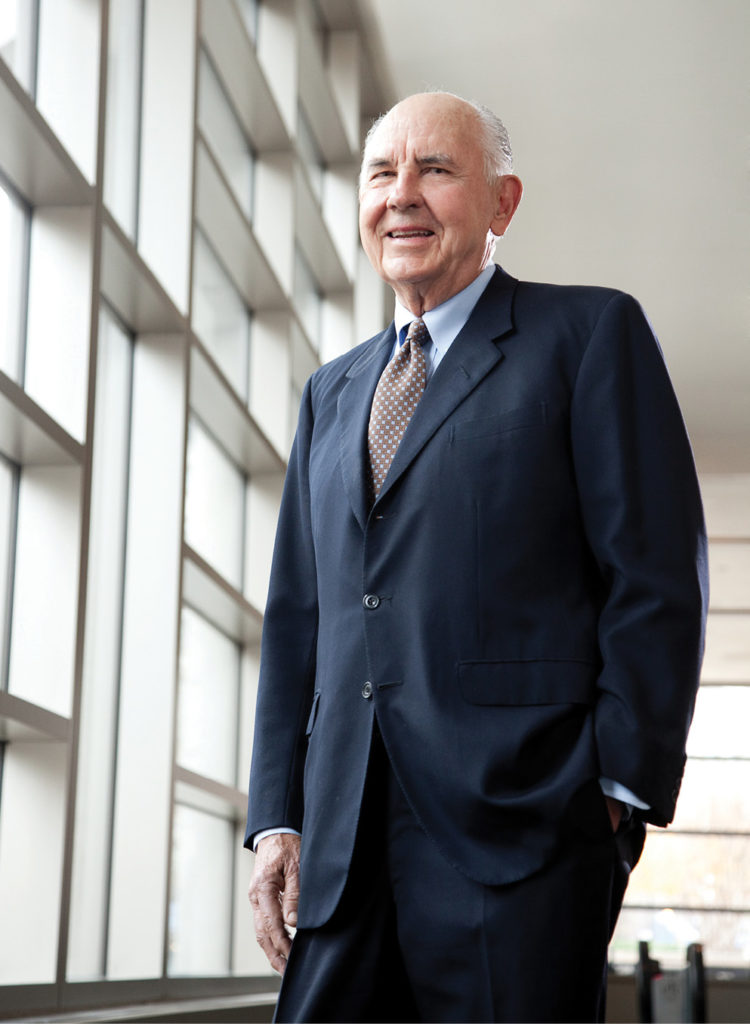 At a dinner honoring Vanderbilt's inaugural class of Clark Scholars last November, Chancellor Nicholas S. Zeppos told a story about meeting the late Jim Clark in his Bethesda, Maryland, office several years ago.
As the two talked about the many iconic buildings for which Clark Construction has played a major role, Clark gestured toward his office window and told Zeppos to look out at the bus stop down the street. "I took the bus to college and had a scholarship, and I'll never forget how much that scholarship meant to me," Clark told the chancellor.
Through gifts made during his lifetime, and now through the philanthropy of the A. James & Alice B. Clark Foundation, Clark truly never forgot the transformative power of someone believing in him—and the importance of giving back.
Last October the Clark Foundation committed a record-breaking $219 million to the University of Maryland to fund college access for students at the university's A. James Clark School of Engineering. It was the largest gift ever made to the university and one of the largest made to any public research university in this century.
In addition to the Clark Scholars Program—planned for 10 universities throughout the U.S.—the Clark Foundation has made significant investments in education and community initiatives in the Washington, D.C., area, and for programs helping military veterans transition back to civilian life.
"My father always said you get back way more than you ever give away," Courtney Clark Pastrick, daughter of Jim Clark and board chair of the Clark Foundation, told the Vanderbilt students at the November event. "He truly believed that, and said throughout his whole life that even when he didn't have a lot of money to give away, the money he gave always came back to him in wonderful, generous ways.
"We're so excited to watch you go through this program and be mentors to the classes that are coming up. … We believe in you, and that's why this program exists. We've got your back, and so does everybody else here at Vanderbilt."
---
Learn more about the first cohort of Clark Scholars at Vanderbilt:
---