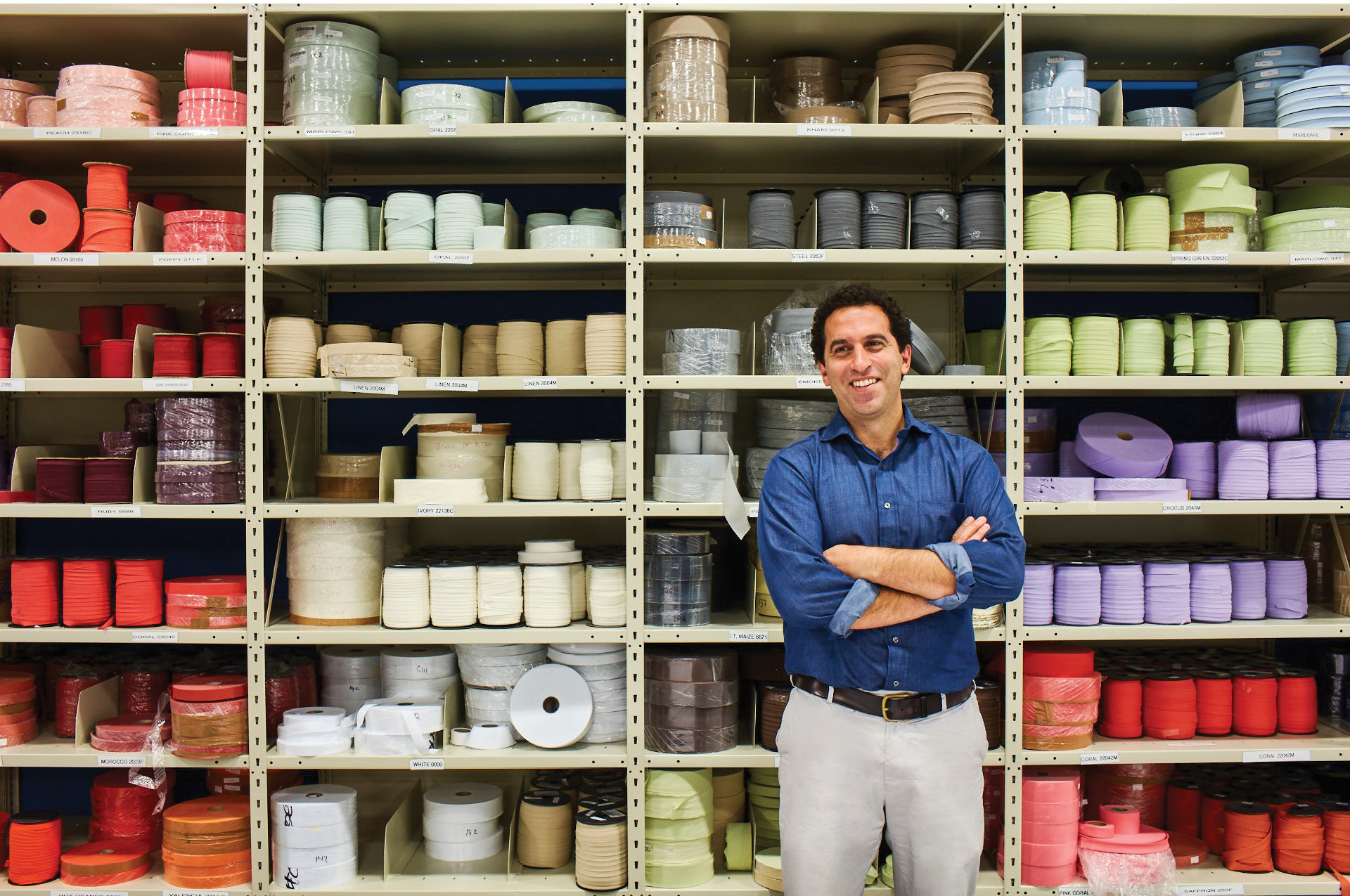 When George Matouk graduated from Vanderbilt in 1991, the forces of globalization were wreaking havoc on American manufacturing by replacing items once made domestically with a flood of low-cost imports.
For Matouk, this was no mere point of curiosity. The table linens business run by his father—and founded in 1929 by his grandfather, who emigrated from Syria to New York—faced daunting questions about whether to close its domestic manufacturing facility and reposition itself to sell wares made overseas.
Instead, after enrolling in Columbia Business School's MBA program in 1995, partly as a way to study the company's dilemma, Matouk and his father arrived at a different conclusion. "We really invested in our domestic manufacturing when everybody else was eliminating those assets," he says.
Today, John Matouk & Co. has emerged as one of the premier luxury brands in bed and bath linens. Its products are sold at high-end retailers like Neiman Marcus and Bloomingdale's. They're also featured in a roster of boutique hotels around the world, including Blackberry Farm in East Tennessee.
From a business perspective the company has helped lead a resurgence in U.S. manufacturing, doubling the size of its plant in Fall River, Massachusetts, four years ago. Taking a cue from high-tech corporate campuses, Matouk also installed solar energy and focused on employee-centered design as part of its expansion.
Vanderbilt Magazine talks to Matouk about adapting the family business for a new generation, and how some of his earliest leadership lessons came from an unlikely source: Vanderbilt's club lacrosse team.
Most family businesses don't survive past the third generation. Why is that?
Any business, no matter how old it is, must recognize when it's time to reinvent itself. Matouk wouldn't have made it had we not reinvented ourselves in a meaningful way that enabled us to compete for more generations. You can't just assume that the business will continue to be there. Family-owned businesses are subject to the same competitive pressures that all companies are exposed to in all industries, and you can't be ignorant to that.
What made the difference for Matouk & Co.?
We committed to making the bulk of our products in the United States. We felt that as a luxury product company with a long history, the best way for us to demonstrate our craft was to do it ourselves; about 60 percent of everything we produce is from the U.S. Plus, nearly all our sales and customer-service employees are located here. In a luxury market, people want specialized, customized products, and they want them quickly. That's difficult to do at the level of quality and transparency we require at Matouk, especially from halfway across the world.
Because of that commitment to concentrating our business in the U.S., we're in tune with our customers. As American lifestyles changed, so did our products. When people moved away from formal dining and began eating more casually in kitchens, we decided to reorganize the company around bed and bath linens completely. That was critical, because it happened at a time when the American housing market took off and people were beginning to have way more bedrooms and bathrooms in their houses than they had dining rooms.
When you expanded your headquarters, you adopted features that might be found at a tech company. Why?
As a company, it's about operating in a responsible and sustainable manner.
We asked ourselves: What does the employee entrance look like? Does it look like you're entering through the backdoor of the building? Or is it beautiful like the visitors' entrances? Are you seeing trees and flowers and experiencing nature, or are you just walking across a cracked asphalt parking lot? We tried to consider every moment of the employee's day and cater our accommodations toward making those moments better and more enriching.
We also have a large solar energy installation. We're active philanthropically in the community. We try to encourage our employees to engage with our surrounding community as well.
Our bank at the time balked at the cost of the project. They said we were building a Cadillac when all we needed was a Chevrolet. They didn't understand our vision. We wanted to respect our business and treat employees like the artists and craftspeople they are. We considered this to be a strategic investment in an environment that we knew would lead to a better, happier workforce and a more productive company in the long term.
How did your time at Vanderbilt influence your success?
The most meaningful experience for me at Vanderbilt was my involvement with the club lacrosse team. Vanderbilt has a [women's]  NCAA team now, but when I got there the lacrosse team was self-sufficient. We collected dues and had a budget. When I was elected captain of the team, it was like running a business. I had to make sure we had equipment on the field, or that we'd reserved a field at all. I had to make sure the referees showed up and that hotels were booked and paid for in advance.
I initially joined the lacrosse team for athletic and social reasons, but it really helped train me to become a business leader. I wish I'd realized this then. My dad probably would've supported my involvement with the lacrosse team a bit more.
---
George Matouk was interviewed by Shayla Byrd, BA'05, a New York-based writer and editor.
---