Clay Communiqué: Exhibit showcases 4,000-year-old writing system
by
Jim Patterson
Feb. 26, 2018, 2:40 PM

Clay is possibly the earliest medium known to humans, used in ancient times for everything from construction to communication. Its centrality to the culture of what many call the "cradle of civilization" some 4,000 years ago is the focus of a new exhibit at Vanderbilt Divinity Library.
Among the highlights of Cultures in Clay: The Shaping of Ancient Near Eastern Civilizations are clay tablets with cuneiform—a wedge-shaped writing system used by ancient Sumerians, Babylonians and Assyrians.
"Clay, as commonplace as it was, became a vital ingredient in everyday life through thousands of years in communication, construction and works of art," says Douglas Knight, the Drucilla Moore Buffington Professor of Hebrew Bible, emeritus, and one of the exhibit's curators. Artifacts from Knight's personal collection on loan for the exhibit include distinctive Egyptian figurines as well as artifacts and pottery from ancient Israel.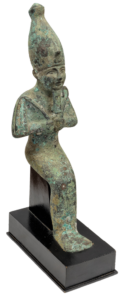 Cultures in Clay also draws from two Vanderbilt collections: the Cuneiform Tablets Collection, donated by the family of James Stevenson in 1989, and the Arno Poebel Collection, acquired by the Divinity Library in 1968. Stevenson was a biblical scholar and Assyriologist who was a longtime Vanderbilt faculty member. His tablets date from around 2000 B.C. Poebel was an internationally esteemed scholar of ancient Near Eastern studies who wrote extensively about Sumerian language and literature.
"For Vanderbilt to have its own collections of cuneiform tablets is truly wonderful for our researchers and students, and we want to build community awareness for these treasures," says Annalisa Azzoni, senior lecturer in Hebrew Bible and religious studies and a co-curator of the exhibit. "It's far superior in research to be able to inspect an actual cuneiform tablet rather than look at its photograph. I always tell my students it's much better for researchers to work through the processes of reading and translating the cuneiform instead of relying on someone else's interpretation. For these future scholars to learn the 'trade' in all its different facets is extremely beneficial."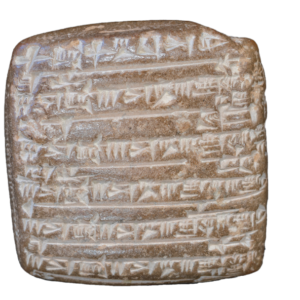 Knight notes that for the past two decades, more than 50 Vanderbilt students have taken part in archaeological digs with him and other professors at Megiddo and Jezreel in Israel.
Once a prominent ancient city, Megiddo remains a rich source from which archaeologists are learning about life thousands of years ago in the ancient Near East. Meanwhile, the Jezreel Valley belongs to a major thoroughfare in biblical times. Both sites are considered historically significant for the study of Israelite life during the Iron Age, from the 12th to the sixth centuries B.C., but also for earlier and later periods.
In addition to Azzoni and Knight, curators of the exhibit include library exhibit coordinator Charlotte Lew and graduate students Serena McMillan, Jonathan Redding and Michael Sekuras.
Cultures in Clay is free and open to the public through July 2018.