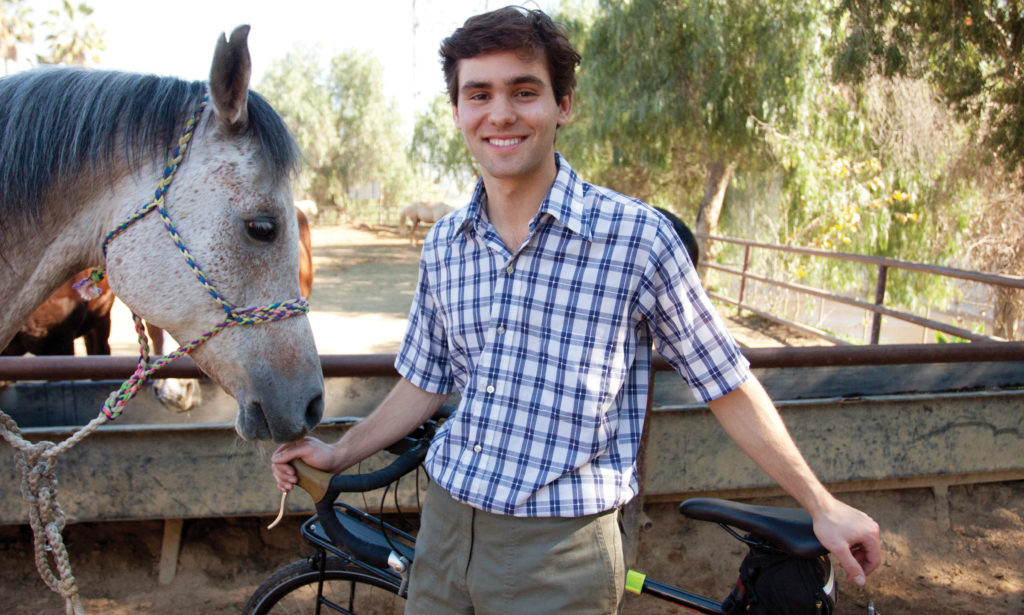 For Caleb Feiring, riding his bike across the country on a quest to tell the stories of America's family farmers isn't without its hazards.
Consider the night he bedded down in a Midwestern barn with a nocturnal rooster.
"He was pretty unpopular among the whole barn," Feirig recalls. "He would start going at 3 a.m., and the horses would start neighing at him. Then the chickens would start clucking. Then I found that I would start yelling at that damn rooster to shut up."
But such inconveniences are trifling compared to his overarching goal. Since he left Indianapolis last August atop his Trek 520 touring bike, Feiring has served as a field reporter for RFD-TV, a cable network devoted to rural programming. As of mid-January, he had filmed 15 three-and-a-half-minute video segments for American Farm Odyssey, a program that highlights small farmers by telling "big stories about resilience in the face of hardship in farming."
Small family farms account for 90 percent of farm production, but they enjoy profit margins of less than 10 percent, according to the U.S. Department of Agriculture.
"What do I hope to accomplish?" Feiring asks. "I guess the phrase that comes to mind is from Death of a Salesman: 'Attention must be paid.' There are some incredible stories out there. The average family farmer isn't necessarily important. He doesn't make or break nations. He doesn't come up with discoveries that change people's lives, but I think they're significant stories that need to be told."
In one of his dispatches, Feiring, who totes his own camera equipment, highlighted Wea Creek Orchard in Indiana. The seventh-generation farm partners with a faith-based addiction recovery program to promote human health—with fruit and human support. Another episode features a corn and soybean farmer who, facing low grain prices, launched an ice cream business to pay the bills.
After earning a degree in English, economics and history at Vanderbilt, Feiring taught economics at an international school in Princeton, New Jersey, before working in finance at International Farming Corp., which buys food companies and farms. But he longed to make a difference.
So far he's logged 2,500 miles. Feiring has no intentions to stop pedaling. He plans to travel America in a "lasso" formation, following the seasonal harvests. He expects to tally 10,000 miles within two years.
The segments, Feiring says, speak to what he suggests are innate inclinations.
"I think everyone has a bit of farming blood in them," he says. "You think about human instincts, and it's within us to provide food and create food that's essential to our survival."
Feiring calls his Vanderbilt major, with its liberal arts approach, the "ultimate toolkit for tackling any challenge that comes my way on the road."
"I've been able to use a pocketknife to fix my bicycle at times," he says. "When it comes to actually editing these episodes and doing the storytelling, my English degree is essential to constructing narratives that are compelling or, in some cases, suspenseful or moving."
—ANDREW FAUGHT
---