Media Inquiries
Latest Stories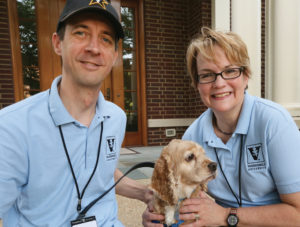 The role of media in society is debated frequently. Fortunately, Vanderbilt alumni have found a reasoned voice to help them see through the noise.
Vanessa Beasley, BA'88, dean of The Martha Rivers Ingram Commons and associate professor of communications, has presented the Commodore Classroom "What's New About Fake News" to alumni in five cities as well as on campus for Reunion 2017. Commodore Classrooms feature Vanderbilt faculty who lead discussions on a variety of topics.
Tom Shepherd, BA'86, recently hosted 40 alumni for Beasley's Commodore Classroom in Westfield, New Jersey. "Dean Beasley did an amazing job," Shepherd says. "The audience was energized by her presentation and responded with numerous questions."
During her program Beasley traces the historic roots and previous iterations of "fake news" within U.S. political media, even going back to the founding of our country. Her goal is to help the audience understand what's new about today's media environment—and what's not—to gain insight into current perspectives.
"It's an enjoyable and relatable topic for everyone," adds Shepherd. "She put politics aside and shared the historical context to explain the positives and negatives of the present state of media."
Beasley will present her "Fake News" Commodore Classroom in three chapter cities this spring: Atlanta, Los Angeles and Austin, Texas.
Learn more about Commodore Classrooms and other alumni programs that feature Vanderbilt faculty.
—MATT ANDERSON
---