Media Inquiries
Latest Stories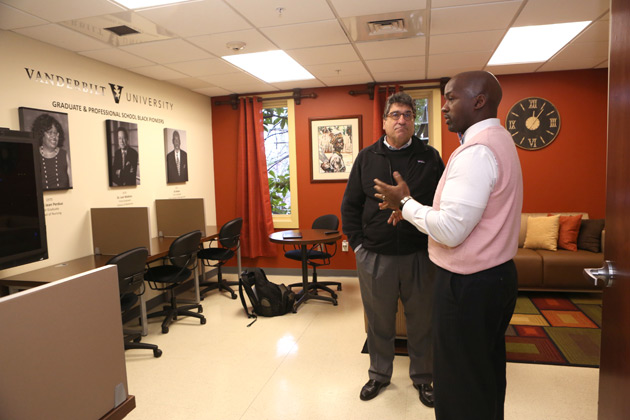 Vanderbilt leaders, students, faculty and staff celebrated the opening of three new dedicated spaces Feb. 16 to serve students and build community at the Bishop Joseph Johnson Black Cultural Center.
Chancellor Nicholas S. Zeppos spoke to the group, and Center Director Rosevelt Noble shared a high-level overview of his Lost in the Ivy project, an extensive and comprehensive archive of African American achievements, history and leaders at Vanderbilt, both past and present.
The new spaces include a community room for undergraduates lined with wallpaper that Noble and students have created featuring news stories chronicling African American history at Vanderbilt; a graduate and professional student study lounge featuring portraits of African American pioneers at the university; and a new resource room that will bring representatives from various student support services across campus to the center to assist students weekly.
The event was part of a packed month of daily activities and programs that the Black Cultural Center has led to celebrate Black History Month.