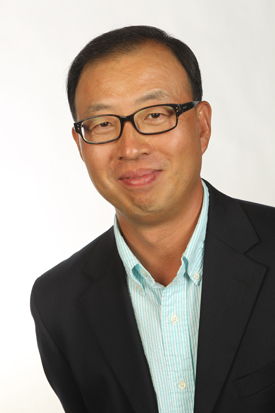 Paul C. H. Lim will discuss the significance of the Reformations—Catholic and Protestant—on struggles over human rights and equality in 2018 when he delivers the Mafoi Carlisle Bogitsh Memorial Lecture Feb. 22. Lim's talk, "Reformation, Race and Rights: An Underexplored Narrative of Modernity," will be at 4 p.m. in the Vanderbilt Divinity School Reading Room.
Lim, associate professor of the history of Christianity at the Divinity School, is an award-winning historian of Reformation and post-Reformation Europe. He also has faculty appointments in the College of Arts and Science in history, religious studies and Asian studies.
"Reformation history in Europe coincides with the beginnings of global colonial enterprises," Lim said. "As I hope to show in the lecture, the story of this religious reform needs to be set within the context of the struggles over rights and race. Questions surrounding human rights of the racial and religious 'other' were thrust to those seeking to carry Christianity to the New World, whether as a merchant, mercenary or missionary. Some of the most vocal promoters of social justice and institutional changes were Christians, yet some of the most vociferous preventers of social justice and institutional changes were Christians as well. We live amidst that dialectical tension, both then and now."
The Mafoi Carlisle Bogitsh Memorial Lecture was established by a gift from Professor Emeritus Burton Bogitsh and his family in honor of Mafoi Carlisle Bogitsh. She grew up as a Baptist in a small farming community in West Texas, where her mother, Una Hooper Carlisle, taught her the principle of religious tolerance.
Mafoi Carlisle studied comparative religion at Baylor University and cultivated a profound interest in various world religions and the cultures from which they arose. This interest grew when she married Burton Bogitsh, a man of Jewish heritage, and both involved themselves with the Unitarian tradition. The Mafoi Carlisle Bogitsh Memorial Lecture honors her lifelong interest in the interplay between culture and religious expression.
Among those who have delivered past Bogitsh lectures are Stacey Floyd-Thomas, Sharon M.K. Kugler, Lenn Goodman, Richard Haglund, James Lawson Jr., John McClure and Anand Taneja.
For more information, email Sha'Tika Brown or call 615-936-8453.