Media Inquiries
Latest Stories
---
---
On Feb. 6, a week after President Donald Trump's first State of the Union Address, Pulitzer Prize winner and Visiting Distinguished Professor Jon Meacham sat down to discuss the president's first year in office on the latest episode of The Zeppos Report podcast.
"Let's start with some general reactions to the president's first year. … Do we have to nest him in some sort of historical context before we jump too far ahead to say there's never been anything like this before?" Vanderbilt Chancellor Nicholas S. Zeppos asked to open the conversation.
Meacham said he views the Trump presidency so far as being unprecedented in "tone and culture." But when it comes to the actual policy, he thinks Trump is operating within a traditional Republican orthodoxy.
"I don't think another Republican actually would have ruled, in substance, much differently," Meacham said. "One of the things about Trump is it's damn near impossible to separate the style from the substance because the style, frankly, is for some repellent and for others refreshing."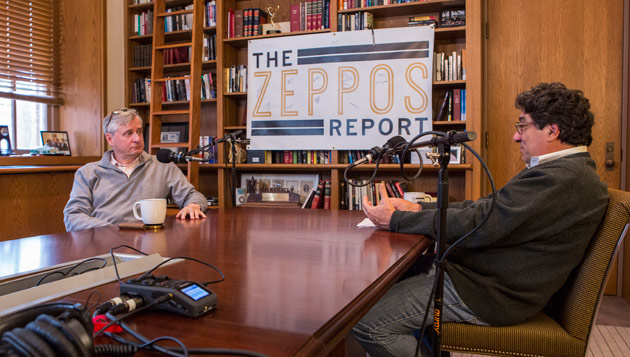 Throughout the conversation Meacham and Zeppos compared Trump to earlier historical eras, including the McCarthy hearings, the Nixon White House and the Vietnam War. They also touched on this year's upcoming congressional elections, pointing to the Tennessee race for U.S. Senate between Republican Marsha Blackburn and Democrat Phil Bredesen as a race that could have national implications.
Meacham often joins Zeppos for on-stage discussions as part of the roundtable format of the Chancellor's Lecture Series. He is the author of American Lion, a biography of Andrew Jackson, which won a Pulitzer Prize in 2009. His latest book, Destiny and Power, a biography of George Herbert Walker Bush, was a No. 1 New York Times bestseller and named one of the year's best books by both the Washington Post and the New York Times.
The podcast is available on SoundCloud, Stitcher, Google Play, iTunes, YouTube and The Zeppos Report website.