An exhibition by Nashville studio artist Omari Booker, whose works include themes of social justice and Nashville's changing neighborhoods, will be on display at Vanderbilt Divinity School throughout the month of February.
"In My Lifetime: An African American Perspective" is located in the Divinity School's Art Room, G-20. An opening reception with the artist will take place from 3 to 7 p.m. Feb. 1.
The exhibition will be open weekdays—with the exception of Tuesdays—from noon to 2 p.m. through Feb. 28.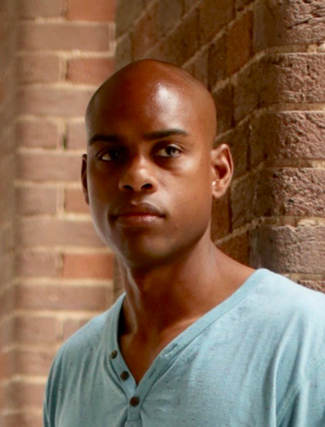 Booker, who was born in Nashville, went to Montgomery Bell Academy and played basketball at Belmont University. He later earned a bachelor of science in graphic design from Tennessee State University.
The pieces displayed at the Divinity School explore some of Booker's life experiences and were created between 2014 and 2017.
"Mental and spiritual liberation in the face of physical limitations are themes woven into all of my work," Booker said. "Influenced by my mentor, instructor and friend Samuel Dunson, as well as James Threalkill, Michael McBride and a tremendous Nashville art community, I have continued to create work daily."
Among Booker's strong interests is the Tennessee Initiative for Higher Education, which funds and coordinates onsite degree-granting programs in Tennessee prisons.
Special programs during the exhibition include:
Noon to 1 p.m. Feb. 8, gallery talk by Booker and Paul Polycarpou, editor of Nashville Arts Magazine
10 to 11 a.m. Feb. 28, spiritual meditation by Michael Brandon McCormack, a University of Louisville faculty member who earned his master of arts and doctorate in religion in 2013 from Vanderbilt
The exhibition of Booker's painting and mixed media, which is free and open to the public, is sponsored by the Religion in the Arts and Contemporary Culture program and the Kelly Miller Smith Institute on Black Church Studies.
For more information, contact Dave Perkins.