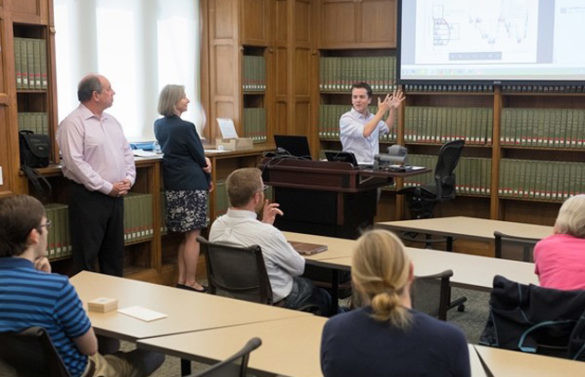 The Jean and Alexander Heard Libraries, in conjunction with the Wild Bunch Fund, Design for America, the Wond'ry and DIVE (Design as an Immersive Vanderbilt Experience), will host a competition for all Vanderbilt students in early February to improve library users' experience. The competition will promote the application of design thinking and human-centered design principles to make the library's collections, facilities and services more accessible and meaningful for users.
On Feb. 3 a design-thinking boot camp and discussion of the current challenges facing Vanderbilt's libraries will begin with registration and lunch at 11 a.m. in the Stevenson Science and Engineering Library. Each team will then have five days to refine its idea, consult with librarians and library users, and develop its pitch.
Team presentations are scheduled to begin at 4:10 p.m. Feb. 8 in the Central Library Community Room. Competing groups will each have five minutes to present their designs before a panel of judges. Cash prizes, to be split among team members, will be awarded for first, second and third place. In addition, Vanderbilt's libraries will commit to implementing the winning idea, if feasible.
This is the second annual competition hosted by Vanderbilt's libraries and sponsored by the Wild Bunch Fund, established in 1997 to honor the late Chancellor Emeritus Alexander Heard and his wife, Jean Heard.
The 2017 competition's theme was "Places and Spaces: Mapping Science." Two student projects—one studying human movement over space and time, and the other an interactive webpage exploring the complexity of sorting algorithms—were the winning ideas in the graduate and undergraduate divisions, respectively.
For more information, please visit Vanderbilt Libraries Design Challenge or email Honora Eskridge.