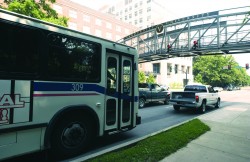 Vanderbilt's Office of Community, Neighborhood and Government Relations and the Vanderbilt Center for Transportation and Operational Resiliency (VECTOR) will host a lunch-and-learn event Tuesday, Jan. 30, discussing Nashville's proposed transit plan.
The event is scheduled from 11:30 a.m. to 1 p.m. in the Kissam Center, Multipurpose Room C210.
Come for lunch and learn what the transit plan proposed for Nashville entails.
The panel will include:
Steve Bland, CEO, Nashville MTA
Steve Gild, Vanderbilt environmental management system coordinator
Erin Hafkenschiel, director, Mayor's Office of Transportation and Sustainability
Craig Philip, research professor of civil and environmental engineering and director of VECTOR

Walter Searcy, Transit for Nashville
Noah Van Mierlo, Vanderbilt University student
Boxed lunches will be provided for the first 90 people to arrive.
For more information, email cngr@vanderbilt.edu or call 615-343-0700.