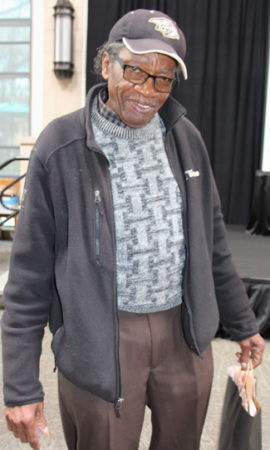 Vanderbilt Campus Dining welcomed its staff members back for the spring semester at an awards luncheon Jan. 5 at The Martha Rivers Ingram Commons. Team members who were promoted, achieved staff awards during the fall and received service awards in 2017 were celebrated.
The dining team recognized 21 staff members who were promoted during the fall 2017 semester. These promotions ranged from lead cashier food production worker to director of operations. In addition, Maxine Ebanks was recognized for receiving the Chancellor's Heart and Soul Award during the fall semester.
Dining closed out the program by recognizing the 29 team members receiving university service awards of five, 10, 15 and 20 years in 2017 and the 20 staff members who have worked at Vanderbilt for more than 25 years. They included Maxine Ebanks, 42 years; Linda Sharpe Cox, 43 years; Diana Johns and Barbara Mitchell, 46 years each; and Willie Strain, 54 years.
Contact: Julie Crider, 615-322-1877
julie.crider@vanderbilt.edu