Media Inquiries
Latest Stories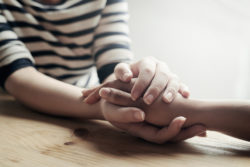 The holiday season brings light, gifts and celebration. It also can be a very difficult time for those who have experienced loss. It can be the first holiday without a loved one or a time when you remember the people you have lost in your lifetime. This can be even more difficult when witnessing others enjoying time with their families, making plans for trips, or hearing about activities and events a lost loved one might have enjoyed.
Work/Life Connections–EAP offers support for those experiencing grief during the holiday season. In addition to short-term counseling, there are resources on the WLC-EAP website.
Ellen Clark, a licensed clinical social worker, has written a resource article on how to navigate grief during the holiday season: "Surviving Grief During the Holidays."
She also has recorded a wellcast, "A Time for Remembering: Change, Loss and Grief During the Holidays."
For more information on resources or to schedule a confidential, no-cost appointment, please call 615-936-1327.