Media Inquiries
Latest Stories
Vanderbilt Scholar Identity Institute director to lead
​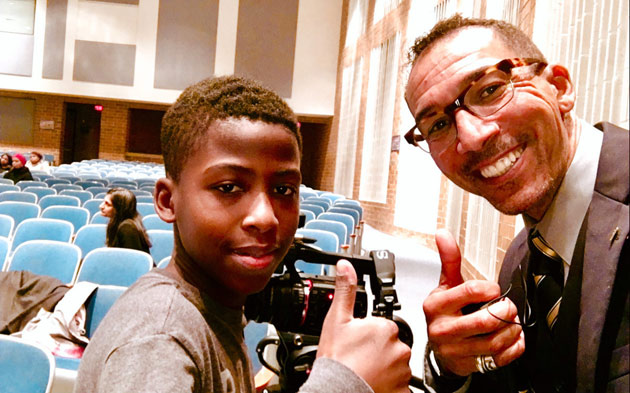 "Why We Can't Wait: A Winter Film Seminar for Black and Brown Teen Boys" will be led Dec. 18-21 by Gilman Whiting, a Vanderbilt University professor whose areas of research include psychosocial educational resilience, race, poverty, at-risk learners and fatherhood initiatives.
​The weeklong seminar—intended for boys of color ages 13-17 from the greater Nashville community—will take place at the Bishop Joseph Johnson Black Cultural Center on the Vanderbilt campus. The times are Dec. 18-21 from 10 a.m. to 2 p.m. as well as the evening of Dec. 21 from 5:30 to 8:30 p.m.
​"Our goal is to explore important social, cultural and educational issues raised in various films while learning about visual literacy and cinematic concepts," Whiting said. "We will encourage the teens to bring their own experiences and points of view to the discussion."
​Whiting, an associate professor of African American and diaspora studies, serves as director of the Scholar Identity Institute and chair of the Peabody Professional Achievement Gap Institute.
​Joining Whiting for the seminar will be three officers of Why We Can't Wait Inc.—Darrell Caldwell, CEO; Lynn Stuart, vice president of programming; and Anthony Hall, vice president of operations. Also participating will be the young men of Why We Can't Wait. The organization's mission is to empower and develop youth/teens in underserved communities. Why We Can't Wait also serves families by improving parent involvement and combating growing health disparities such as, but not limited to, childhood obesity, violence, childhood diabetes, and sedentary lifestyles.
​"We want to make the conversation meaningful for this particular age group, opening the boys' minds to the importance of self-efficacy—believing in one's ability to succeed—and being resilient through the tough times of being an adolescent," Whiting said.
​Families are advised that some of the films contain adult situations, profanity, drug/alcohol use, brief nudity, sexual situations and violence.
​"Why We Can't Wait," which is organized and sponsored by the Urban Education and Scholar Identity Institute at Vanderbilt, is free, but space is limited. Students must apply to be selected for participation. For more information, email Gilman Whiting.