---
---
Former U.S. Attorney General Alberto R. Gonzales' commitment to public service has been actualized in various capacities over the years.
"I quickly realized what a privilege it was to serve our country," Gonzales said. "Although I was a poor kid from a poor family, I felt like an equal."
In the latest episode of The Zeppos Report, Gonzales joins fellow legal scholar Vanderbilt Chancellor Nicholas S. Zeppos to discuss his upbringing in Humble, Texas, his current role as dean of the Belmont University College of Law, and much in between.
Gonzales began working for George W. Bush in 1994 as general counsel when Bush was governor of Texas. He continued to serve in government for more than a decade, following Bush to the White House after the 2000 election before leaving his post as attorney general in 2007. To date, he is the highest-ranking Hispanic American to have served in the executive branch of the U.S. government.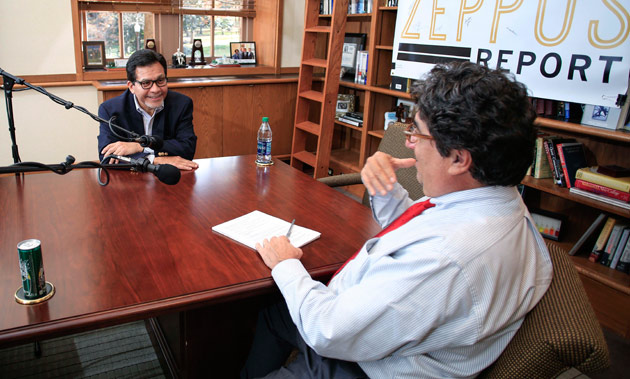 After stepping away from Washington, Gonzales turned to higher education as his next outlet for service. He began work in the diversity office at Texas Tech University in 2009, crafting a leadership development program for minority students attending the institution.
"I do not believe that we as a country can remain strong unless we promote others. Everyone—no matter their skin color, no matter their last name, no matter their address," Gonzales said.
In the podcast, Zeppos echoes this sentiment and points to the excitement involved with educating young people from various backgrounds.
"Our jobs are the ultimate optimist jobs," Zeppos said. "We certainly have our challenges on our campuses, but I do think that if people came and sat at our desk and walked around our campuses they would say, 'Wow, we've got a lot to look forward to.'"
The podcast is available on SoundCloud, Stitcher, Google Play, iTunes, YouTube and The Zeppos Report website.