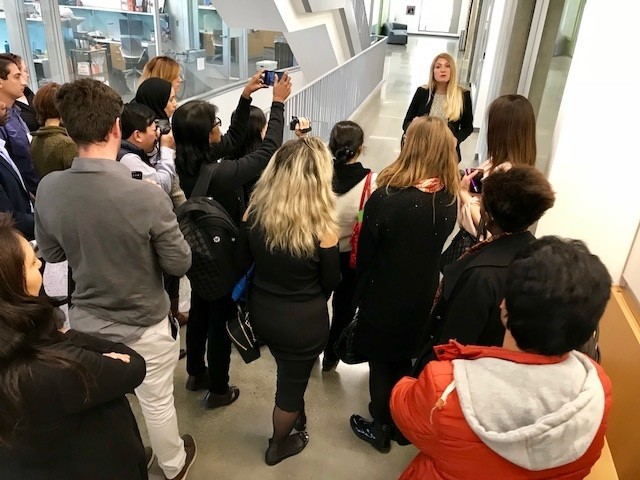 Eighteen journalists from Afghanistan to Vietnam visited the Wond'ry Dec. 7 to learn how it, and programs campus wide, help women entrepreneurs.
The U.S. Department of State Foreign Press Center coordinated the visit, part of a global reporting tour themed "Women First, Prosperity for All" focused on supporting women entrepreneurs and fostering economic growth. It spanned locations in Hyderabad, India; Washington, D.C.; and finally Nashville. Other Nashville stops included the mayor's office and Nashville Entrepreneur Center.
At the Wond'ry, Vanderbilt's epicenter for innovation and entrepreneurship, the group first heard from Provost and Vice Chancellor for Academic Affairs Susan R. Wente, who explained how universities—and Vanderbilt in particular—encourage entrepreneurship to get devices out of research labs and to consumers.
"The Wond'ry is open to students from all 10 of our schools and colleges," Wente said. "We know that creativity comes from gathering people who see a problem from different perspectives."
The group also interviewed Sinead Miller, who recently earned her Ph.D. in biomedical engineering and is launching her company, PATH EX, out of Vanderbilt. She developed a drug-free way to treat sepsis, one of the most common killers in hospitals.
Robert Grajewski, Evans Family Executive Director of the Wond'ry, took the group on a makerspace tour and a visit to the How to Make Almost Anything class before they boarded their bus bound for the Ryman Auditorium.