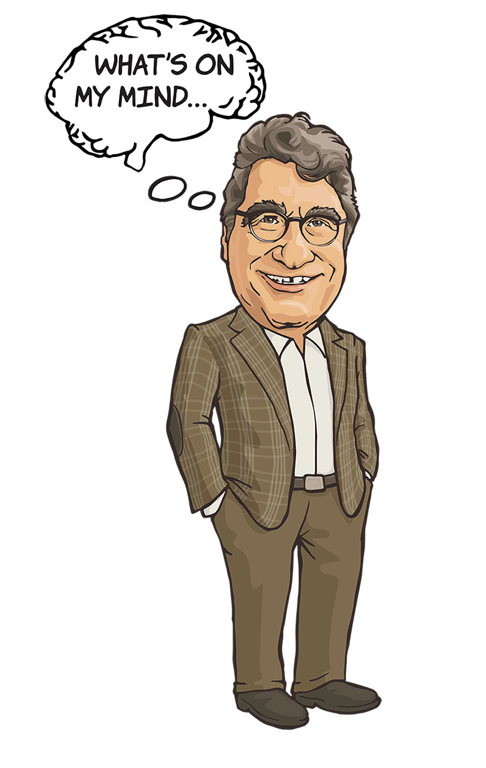 This is the debut of a regular column, aimed at opening another channel of conversation with you about the opportunities and challenges we face, together as the faculty, staff and leaders of our great university.
On Dec. 2, 1967, Perry Wallace stepped onto the court of Memorial Gymnasium and became the first African American to play varsity basketball in the Southeastern Conference. Fast forward 50 years to this past weekend, when Perry's accomplishments and those of his former Vanderbilt teammate, Godfrey Dillard, were recognized in front of a crowd of more than 70,000 fans at the SEC Football Championship game. Together, Perry and Godfrey opened the doors to equality that some of our nation's most talented and promising students have since passed through.
We lost Perry almost a week ago, just one day before the anniversary of that historic date. It is hard to say goodbye to a man whose quiet courage and commitment to justice changed so many lives. Perry had said that the terrible trials he endured, fearing for his life as he traveled the deep South representing Vanderbilt, were essential to develop his personal strength. That sense of resilience, which permeated his story, provides lessons that resonate today.
One of those lessons is reconciliation. We learn the lessons of Perry's and Godfrey's courage, but we also have to learn the lessons of how the community failed them, in so many ways. Vanderbilt wanted this story to be told, warts and all. I believe that by facing the real history head on, we can begin together to write the chapters of reconciliation. There are many chapters to be written, but this is where we start.
Let's honor the lessons that Perry and Godfrey first taught many years ago by renewing our commitment today, and every day, to cultivate Vanderbilt's beloved community, which is committed to reconciliation, welcomes diversity, supports all of its members in reaching their full potential and remains dedicated to improving the world around us.
How do we do that? By bringing our commitment to life through Opportunity Vanderbilt and other initiatives that put a Vanderbilt education within reach of all qualified students, and by building a faculty and staff community that reflects our world. Taken together, our efforts of the last decade have built a community with a vibrant symphony of viewpoints and a singular focus to tackle the great challenges facing our society.
Our commitment to these values should be celebrated, but we must not grow complacent and we must be prepared to fight to defend them. As I wrote in The Tennessean last week, we are advocating strenuously to protect our ability to provide scholarships for future leaders, the future Perry Wallaces and Godfrey Dillards, from potentially destructive policies in current tax proposals advancing in Congress. The bill that was passed by the Senate on Dec. 1 included some modifications that we fought for that minimize the damage to our higher education mission and students and families. But much work remains to be done.
The university is continuing to work with members of Congress, alongside peer universities and others in the nonprofit sector, to urge policies and provisions that support the teaching, research and discovery that take place on our campus every day. As they begin work to reconcile the House- and Senate-passed versions of the tax bill, we will keep you apprised.
I appreciate your support in these efforts to protect higher education and in demonstrating the value of the American research university every day. Throughout our work—whether fighting for sound federal policies or honoring our past, we are focused on our future and the advancement of our mission of teaching, discovery and service.
We approach our work each day with an eye toward the next decade, the next generation, the next century of advances that are still nascent. We must, as a community, remain focused on writing the next chapter of courage and reconciliation that Perry and Godfrey began a half-century ago, and on writing new chapters of innovation and exploration, of equality and community. It is our imperative to develop our shared story, page by page and day by day, through our work together at this great university.
What's On My Mind is a regular column from Vanderbilt University Chancellor Nicholas S. Zeppos on the life, people and mission of Vanderbilt University and issues affecting higher education today. Share your thoughts at chancellor@vanderbilt.edu.