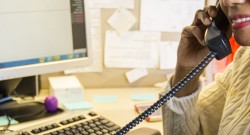 Starting Friday, Dec. 15, university users will begin submitting a new form to place telephone orders and to request any voice service previously ordered in eProcurement. The eProcurement system will permanently go offline in mid-December as part of the university's transition to Oracle Cloud.
The new form uses Office 365, which has a different log-in format. When typing in your username, use the following template: VUnetID@vanderbilt.edu. If this is the first time you are logging in to Office 365, a box will appear requesting permission to use Office 365 and SharePoint. Select "Allow" to access the form.
The form is also available on Vanderbilt IT's Voice Services webpage. For more information, call Voice Services at (615) 421-1611, or email vuit-voice@vanderbilt.edu.