By Grace Renshaw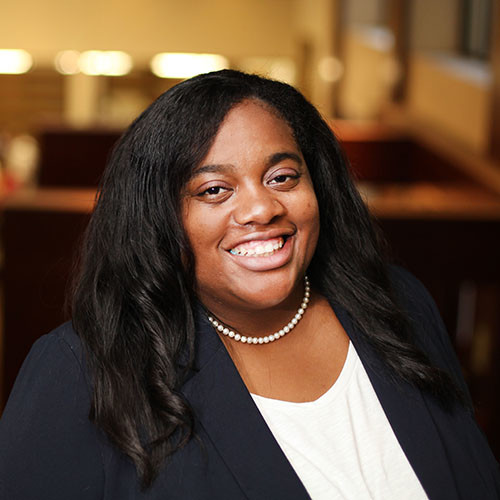 Vanderbilt Law School graduate Samiyyah Ali, JD'16, will serve as a law clerk to Supreme Court Justice Sonia Sotomayor for the term beginning in October 2018.
The Atlanta native graduated from Vanderbilt Law School in 2016 and is currently serving as a law clerk to Judge Sri Srinivasan of the U.S. Court of Appeals for the D.C. Circuit in Washington. During the 2016–17 term, she was a law clerk for Judge Amul Thapar, then of the U.S. District Court for the Eastern District of Kentucky. Thapar has since been appointed to the U.S. Court of Appeals for the Sixth Circuit.
Ali holds an undergraduate degree in psychology from Duke University and an M.A. in higher education from Ohio State University, where she worked before entering law school. At Vanderbilt she was executive editor of the Vanderbilt Law Review, vice president of the Black Law Students Association, president of the VLS Ambassadors, and a member of OUTLaw.
A recipient of both the Hess and Ethel and Cecil Roberts scholarships, Ali earned numerous book awards, was selected for the Cal Turner Program for Moral Leadership in the Professions, and participated in the Vanderbilt Legal Academy Scholars program. At graduation she received the Bennett Douglas Bell Memorial Award, which recognizes the student "who is not only well versed in the law, but who shows the highest conception of the ethics of the profession," and the National Association of Women Lawyers Outstanding Scholar Award. She was elected to the Order of the Coif and received a Dean's Leadership Award.
"Samiyyah had a stellar academic record at Vanderbilt, and she touched and impacted almost every part of Vanderbilt during her time here," said Michael Bressman, professor of the practice of law, who heads Vanderbilt Law School's clerkship program. "We take tremendous pride in her achievements."
Alumnus Cameron Norris, BA'11, JD'14, is currently serving as law clerk to Supreme Court Justice Clarence Thomas.