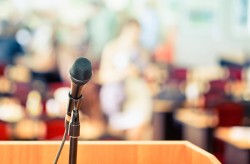 In partnership with the Faculty Senate, the Shared Governance Committee is gathering input from its faculty colleagues regarding shared governance at Vanderbilt.
The Shared Governance Committee, appointed by Vice Chancellor for Academic Affairs and Provost Susan R. Wente, consists of 11 faculty members from Vanderbilt's 10 colleges and schools. The committee is diligently working to study shared governance processes and best practices within the Vanderbilt community.
To gather input from faculty, the committee has scheduled a series of town hall-style conversations to hear feedback. All faculty are invited to attend.
Upcoming meeting times and locations are as follows:
School of Nursing: Friday, Dec. 1, 11:30 a.m. – Nursing Annex, Room 161
School of Engineering: Tuesday, Dec. 5, 4 p.m. – Featheringill Hall, Room 132
Blair School of Music: Wednesday, Dec. 6, noon – Choral Hall
Peabody College: Wednesday, Dec. 6, 3 p.m. – Mayborn Hall, Room 204
Vanderbilt Divinity School: Friday, Dec. 8, noon – Reading Room
College of Arts and Science: Wednesday, Dec. 13, 4 p.m. – Wilson Hall, Room 112
Clinical Sciences: Thursday, Dec. 14, noon – Light Hall, Room 512
The committee is eager to gather input on where shared governance is working well at Vanderbilt as well as specific suggestions for improving shared governance.
If you are unable to attend a town hall meeting—or in addition to attending—you can complete an anonymous six-question survey about shared governance at Vanderbilt. For questions or more information, contact sharedgovernance@vanderbilt.edu.