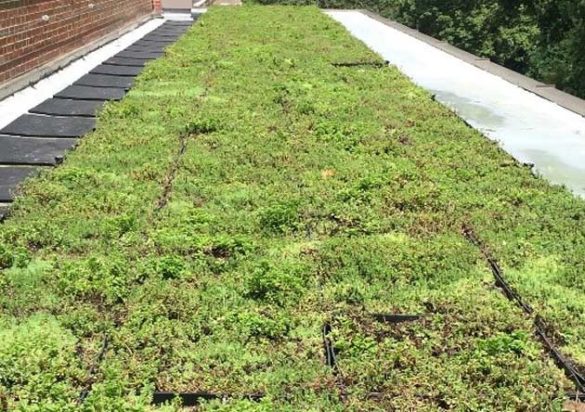 The five green roofs on campus will be featured this week during the latest pop-up event sponsored by FutureVU, Vanderbilt's land-use planning initiative.
FutureVU and the Sustainability and Environmental Management Office on Wednesday will host Green Roof Day, an event designed to showcase a campuswide sustainability effort that often goes unnoticed. Some green roofs on campus are hidden, while others do not look like traditional roofs.
Green roofs have a number of environmental benefits, including saving energy, increasing plant diversity and decreasing the urban heat island effect. A full list of the benefits of green roofs was published earlier this semester.
The roofs highlighted during this event are at the Warren and Moore Colleges courtyard, Rand Dining Hall, the fourth floor of the Engineering and Science Building, the lawn of the School of Nursing Annex, and Medical Center Plaza.
To participate, students, faculty and staff will visit the green roofs and take photographs of themselves interacting with each space. Participants will have a variety of options to post their photos on social media, including adding them to their Snapchat story, sending them to @VanderbiltU on Snapchat or posting them on Instagram and tagging @futurevunews. Those who visit all five locations will earn a free FutureVU t-shirt and be entered in a gift card drawing. Students also will earn My Vanderbilt Experience or Greek Member Experience credit.
The event is from 9 a.m. to 4 p.m. FutureVU staff will be in Sarratt Promenade from 2 to 4 p.m. to hand out t-shirts, answer questions and enter participants in the gift card drawing.