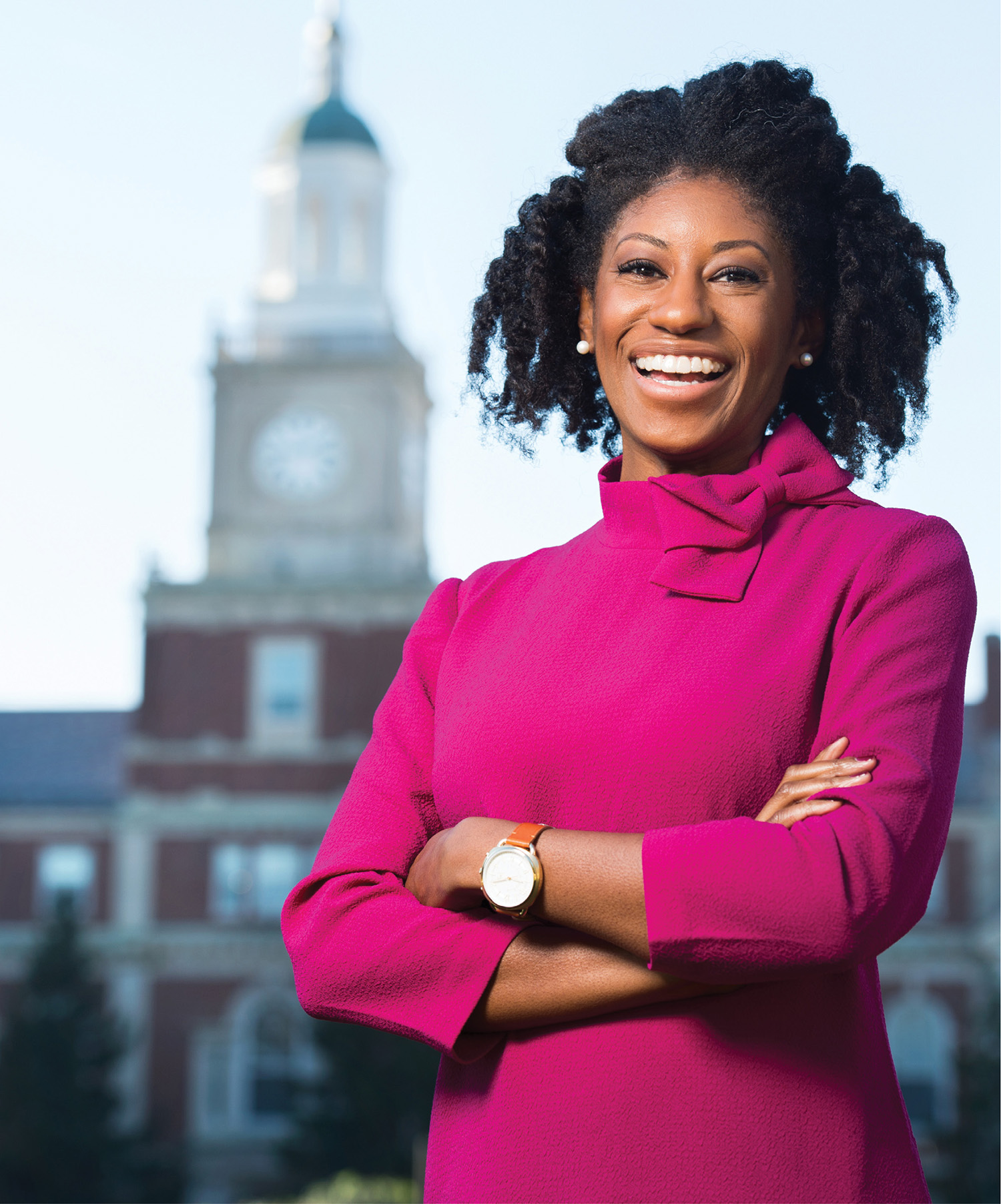 This year's recipient of the Vanderbilt Alumni Association's Young Alumni Professional Achievement Award, Zakiya Smith, BS'06, has dedicated her career to easing the complications and financial burden associated with paying for a college education—first as a senior policy adviser in the U.S. Department of Education and later in President Barack Obama's White House.
Recognized twice as a Forbes "30 Under 30" selection, she has continued her work exploring new educational funding models—and ways to streamline paying for higher education—during the past four years as strategy director for the Lumina Foundation, the largest private foundation in the U.S. focused on helping students attain higher education. Smith also recently was appointed to Chancellor Nicholas S. Zeppos' 'Dores of Distinction Alumni Advisory Board.
What were your first impressions of Washington when you moved there after graduating from Vanderbilt?
It was 2006 and the city was so vibrant. I thought, Oh my gosh, young people run this city! This is so empowering. I guess I got bitten by the D.C. bug.
You went on to get a master's degree from Harvard and a Ph.D. from the University of Pennsylvania, but then you returned to Washington. What brought you back?
One of my graduate-school professors recommended me for a job that involved thinking about how more students, particularly low-income students, can enroll in and be successful in college. I was immediately drawn in. I got a role on the Advisory Committee on Student Financial Assistance and was knee-deep in federal policy.
When a colleague went to work for Secretary of Education Arne Duncan in 2009, he didn't have any staff. [The colleague] sent an email to my boss and said, "Can Zakiya come over and help me, because she already has Department of Education clearance and a badge and an email address?" It was really just the luck of the draw in that he thought I had some level of competence, and I had the appropriate credentials.
Did you meet the president of the United States?
When I got to the White House, staffers told me, "You're never going to meet President Obama," which is normal for fairly junior staff. But within my first month, I found myself in the Oval Office meeting with him about higher education issues, which was just completely surreal.
You've said that the real tragedy of the college debt crisis lies with those who borrowed small amounts. Explain that.
The most heartbreaking stories, and the people most likely to default on their debt, are those with what you may consider to be a small amount: $1,000, $2,000, $5,000. I think about the person who can't pay rent because they have a student loan bill—and no degree to show for it—and we don't have great solutions for them. That $5,000 blooms into $6,000 and then, with penalties, people get further and further behind. That's the real tragedy.
What kind of outcomes does Lumina hope to achieve?
We have a really ambitious goal tied to what experts suggest are our nation's workforce needs in the future. In 2025, 60 percent of new jobs will require some kind of postsecondary credential; therefore, we want to increase the proportion of credentialed Americans to match. In addition to believing education is good for a civic society, there's also this very real connection to our economic needs as a nation.
How are you going to meet that goal?
We are changing the paradigm of what we consider college to be by giving people credit for what they already know. For instance, if you want to get an associate degree or bachelor's degree in business and you've been a store manager at Walmart for the past 10 years, then you probably already know things about accounting or management or team building that can earn you credit in the educational process. We're doing the same with members of the military for skills learned during service. We call it "recognizing learning" wherever it happens.
What about paying for college?
The way we pay for college is really convoluted, and students typically don't know how much they're going to pay until they've applied and filled out financial-aid paperwork. The sequencing is wrong. We've seen so much more success when people are given early guidance about how much they should be contributing rather than simply saying, "Do your best." The [Lumina Foundation's] Affordability Benchmark for Higher Education is a new framework describing what we would expect individuals along the income stream to pay for college. We developed "the Rule of 10": 10 years of saving 10 percent of your income, and 10 hours of work while you're in school. But the numbers are really less important than the idea of having some kind of benchmark.
How did your Vanderbilt experience prepare you for your career path?
Peabody is one of the best colleges of education you can attend. I double majored in political science and education. I was always trying to juggle this desire to teach and be in the classroom with a broader interest in policy. Also, my part-time job was working for Teach For America, recruiting Vanderbilt students to sign up. So, I saw the traditional path and the nontraditional path of teaching. I always tell people that policy, and being successful at policy, requires teaching.
---
Zakiya Smith was interviewed by Jessica Neville, BA'94, a strategic communications and public relations consultant.
---