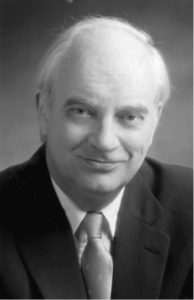 Samuel T. McSeveney, professor of history, emeritus, and a Vanderbilt faculty member for nearly 30 years, died Aug. 5 in Nashville. He was 86.
McSeveney was an expert on late-19th-century American history—particularly the Gilded Age and political history of New York City and the Northeast—and was the author of The Politics of Depression: Political Behavior in the Northeast, 1893–96 (1972, Oxford University). He is the namesake of the Samuel T. McSeveney Award, presented each spring to the author of the best research paper or essay written for a freshman history seminar at Vanderbilt.
Born in 1930 in New York City, the child of two immigrants who met in 1924 on Ellis Island, McSeveney earned his doctorate in American history in 1965 from the University of Iowa after two years of service in the Army. Before arriving at Vanderbilt in 1972, he taught at Brooklyn College and California State University–Los Angeles.
From 1990 to 1994, McSeveney chaired Vanderbilt's history department. He served the College of Arts and Science as chair of its admissions committee from 1989 to 1991 and was a member of the Officer Education Advisory Committee from 1996 to 1999. He chaired the ROTC Advisory Committee in 1996–97 and served on the Rhodes, Marshall and Churchill Scholarship Competition Committee, working to identify promising students for the scholarships from 1996 to 1999.
During his career McSeveney won grants from the Social Science Research Council, American Philosophical Society, National Endowment for the Humanities and others. At Vanderbilt he received the Ernest A. Jones Faculty Adviser Award in 1988 and the Jeffrey Nordhaus Award for excellence in undergraduate teaching in 1990. In 2000 he was awarded the Chancellor's Cup for the "greatest contribution outside the classroom to undergraduate student–faculty relationships."
"Sam's files are filled with the numerous and glowing comments of students about his teaching—in particular, his accessibility outside class and his clear concern about students on an individual basis," says Marshall Eakin, professor of history and American studies. "He was a kind and generous colleague. We will miss his gentle grace."
After retirement, McSeveney frequently taught classes through Vanderbilt's Osher Lifelong Learning Institute.
He is survived by his wife, Sandra; his son and daughter-in-law; and a grandson.
—JIM PATTERSON