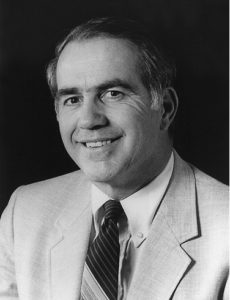 L. Hall Hardaway Jr., chairman of the board of Hardaway Construction Co., Vanderbilt School of Engineering Distinguished Alumnus, and an emeritus Vanderbilt trustee, died Sept. 20, 2017, in Nashville. He was 84.
Having earned his Vanderbilt degree in civil engineering, he first worked as a field superintendent with Hardaway Construction, the firm his father founded in 1924. Concentrating on the commercial side of the business, he led the company into a new era that culminated in the establishment of the Hardaway Group as the 19th largest private enterprise in Tennessee.
Among Hardaway's major Nashville projects are the 20-acre Bicentennial Capitol Mall State Park, built in 1996 to commemorate the 200th year of Tennessee statehood; Cumberland Park along the downtown riverfront; restoration of the historic Metro Nashville Courthouse; and multiple atriums and expansions within Gaylord Opryland Hotel and Convention Center. The company also completed major projects at numerous local universities, including Vanderbilt. Among them are construction of The Commons Center and the engineering school's Featheringill Hall, as well as renovation of Alumni Hall.
Hardaway, a member of the Vanderbilt Board of Trust from 1990 to 2009, served as president of the Vanderbilt Nashville Chapter of the Alumni Association and was a member of the steering committee for the Campaign for Vanderbilt. A longtime supporter of the School of Engineering, he established a scholarship and was inducted into the school's Academy of Distinguished Alumni in 2002.
Hardaway served his community in professional, civic and charitable organizations, including service as president and director of the Nashville Chapter of Associated General Contractors, director of the Construction Certification Institute and Tennessee Associated Builders and Contractors, board member of four local banks, member of the board of governors of the Nashville Area Chamber of Commerce, and sponsorship of Habitat for Humanity homebuilding projects.
Last year he donated his presidential collection of books to the Jean and Alexander Heard Libraries.
Hardaway is survived by his wife of 58 years, Linda; two daughters, including Kay Hardaway Goodrum, BA'90; a son; six grandchildren, including John P. "Jack" Goodrum, a junior mechanical engineering student; and two great-grandchildren.