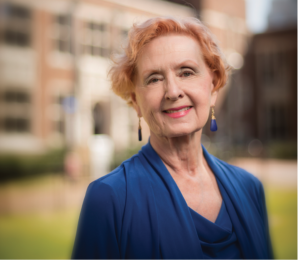 Ann Cook Calhoun, Vanderbilt professor of English, emerita—an internationally renowned Shakespeare scholar and a powerful force for making the Bard's plays accessible to everyone—died Aug. 13, 2017, in Nashville after a brief illness. She was 82.
Calhoun held leadership roles in Shakespeare organizations around the world. In the early 1970s she helped found what would become the International Shakespeare Association, serving on its board. She also served as executive secretary of the Shakespeare Association of America.
Having graduated Phi Beta Kappa from the University of Oklahoma with her bachelor's and master's degrees, she was awarded a Danforth Graduate Fellowship at Vanderbilt, where she earned her doctorate in 1972. She joined the English faculty in 1977, becoming the first woman in her department to earn tenure through the ranks when promoted to associate professor five years later. She was named a full professor in 1990, and served simultaneously as director of undergraduate studies and the English honors program.
"Ann Cook Calhoun was a highly creative and demanding professor who was known for her vibrant style of teaching literature of the dramatic arts," says Dana Nelson, Gertrude Conaway Vanderbilt Professor of English and chair of the department. "She had a genuine concern for her students that was reflected in her strong commitment to her teaching and administrative leadership." She also was known to be a faculty mentor and an elegant hostess.
A former associate editor of Shakespeare Studies, Calhoun was named in 1996 a life trustee of the Shakespeare Birthplace Trust in Stratford-upon-Avon, England—at the time a rare honor for an American, particularly a woman. When she stepped down from the board in 2013, she was named an honorary fellow. The next year she was a founding member of Shakespeare's Birthplace America.
Calhoun was a major supporter of Vanderbilt's Jean and Alexander Heard Libraries, establishing an acquisition fund for Shakespeare studies. She also served as president of the Heard Society and the Friends of the Library. In service to her community, she was a founding board member of the Nashville Shakespeare Festival and the longtime education officer of the Nashville branch of the English-Speaking Union, which sponsored Shakespeare competitions for area high school students.
Later in life, Ann Cook married her teenage sweetheart, Gerry Calhoun, and they were devoted to each other. When she became seriously ill, her husband's health rapidly declined. They were admitted into hospice care, and both died the same day.
She is survived by two daughters and their spouses, four grandchildren, a sister and a brother.
—ANN MARIE DEER OWENS