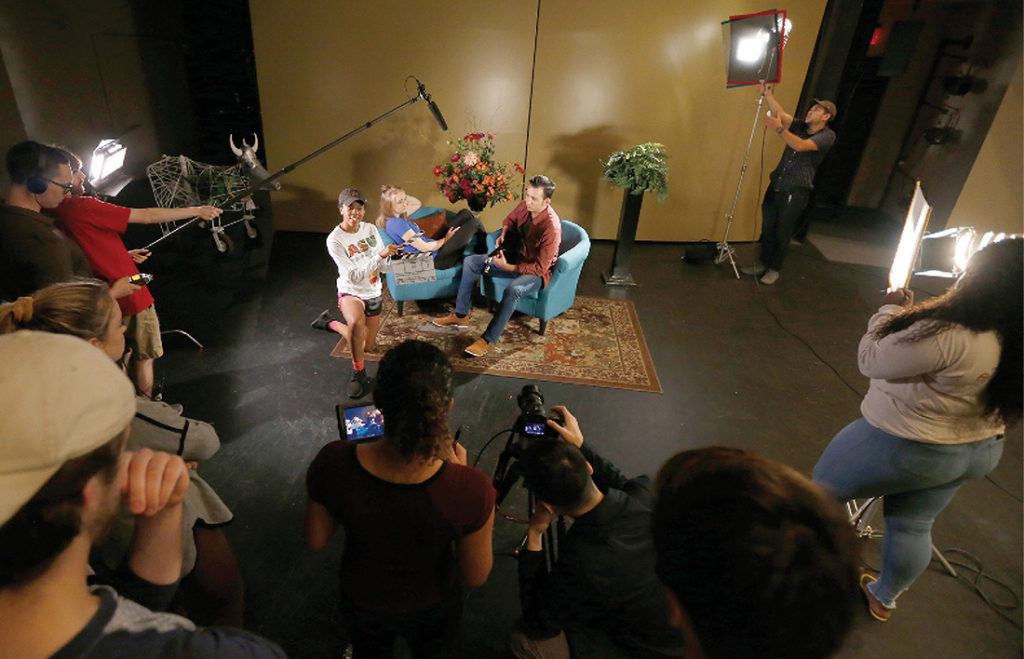 It would seem that Mozart's Marriage of Figaro, an old chestnut of an 18th-century comic opera, might have very little in common with, say, a present-day reality TV show like Big Brother. Until you speak to Gayle Shay.
Shay, the director of Vanderbilt Opera Theatre and associate professor of voice at Vanderbilt's Blair School of Music, has found that universal themes of love, treachery, misrepresentation and redemption connect the two. In November's production of Marriage of Figaro at Ingram Hall, with the help of the Department of Cinema and Media Arts and the Vanderbilt University Orchestra, she melded this beloved light opera into a reality television experience that shows very clearly, from century to century, nothing ever really changes.
"Our goal was to point out that the story is universal," Shay says. "We've lived it before, and we'll probably live through it again."
Vanderbilt Opera Theatre produced Figaro about eight years ago with the Count and Countess Almaviva sung by faculty members in a straightforward adaptation of the original opera. "This time almost all of it was sung by students," Shay says. "That shows how our voice program has grown. We now have people who are advanced enough to take on these roles."
The only nonstudent was Blair alumnus Matt Brennan, BMus'14, who is finishing a master's degree in voice at Cleveland Institute of Music. He sang the role of the Count, which was refashioned in this production as an investment banker who often acts like a teenager and worries about his image.
"If the count had been around in our time, I think he would probably use Twitter," Shay says.
Others in the cast who were translated into reality show contestants included the Countess, once a child television star, who has been divorced from the Count for six months, but wants him back; Dr. Bartolo, a former wrestler and current politician; and his partner, Marcellina, lately in the cast of Real Housewives of New Jersey. Lovers Figaro and Susanna were portrayed as an earnest singer–songwriter and pediatric intern.
Shay spent the summer rewriting the libretto with 10-year VOT veteran Brenda Sparks, also the stage manager for the show. "A lot of it worked already," Shay says. "We didn't really change much in the arias and ensembles, just a few words to modernize it. What we principally rewrote were the recitatives, and even quite a lot of that worked, too. The fourth act is where we had to do some heavy lifting."
Jonathan Waters, senior lecturer in cinema and media arts and assistant director of the program, along with students in the CMA department, filmed preshow webisodes that led to the final episode of Marriage of Figaro, a hybrid of The Bachelor and Big Brother, presented live at Ingram Hall. The CMA students also livestreamed the production.
"When I had the idea and Jonathan said he was interested, as we started getting into it," Shay says, "we starting thinking, 'What have we gotten ourselves into?' It was a complicated production because the lighting for TV was different than for the theater, and even the design changed."
What did not change was the music. "It's really some of the most beautiful music in opera; it's so heartfelt," she says. "Mozart understood how to take theater and put music into it without intruding on the story, but enhancing it.
"His work is done over and over for a reason."
—Bonnie Arant Ertelt
---
Listen to highlights of the production sung by cast members on Nashville Public Radio's Live in Studio C.
---