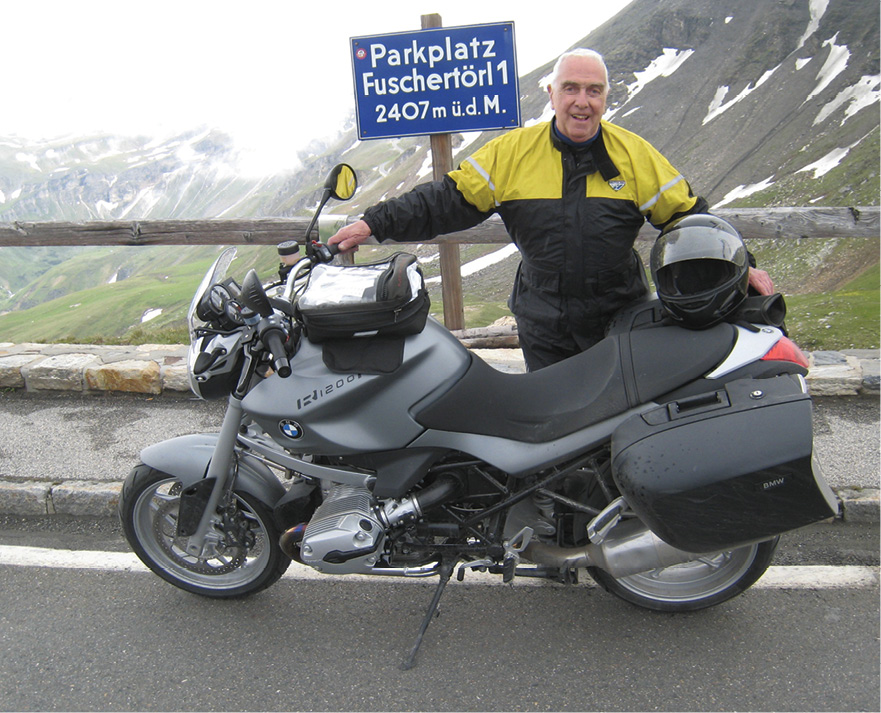 John E. Hermann isn't typical European royalty. He's not even a citizen of the continent.
But the retired real estate appraiser from San Diego has achieved titular glory with his 80 motorcycle tours of the Alps, hence the moniker—bestowed upon him by friends—"King of the Alps." All told, Hermann has ridden more than 1 million miles through the storied mountains.
Not bad for a guy who didn't take up riding until he was 30.
"It just looked like fun, and I needed an excuse to get out of town," Hermann says matter-of-factly. "The Alps came about because I made several trips there with friends by car, and the Alps roads were full of motorcycles."
Six years later, in 1970, he took the first of his excursions to the range, each of them completed on a BMW motorcycle; the company has since honored him for his feats. In time a Boston publisher commissioned Hermann to write a book about his sojourns. The result, Motorcycle Journeys through the Alps & Beyond, was released in 1993 and is now in its fifth edition.
The book is part memoir, part travel guide, describing every Alpine route between Nice, France, and Vienna, Austria. Autoweek magazine called the work "a book for motorcycle riders that car enthusiasts can use. … Sure, it might take a lifetime to bag them all, but what a lifetime it would be."
Hermann's favorite stretch is the Dolomites, a mountain range in Italy known for its spectacular scenery, but also for its place in history. "The Italians and Austrians fought over those mountains in World War I," says Hermann, who served in the Navy ROTC during his time at Vanderbilt.
Of the book, "I wanted people to have the adventure of riding in the Alps," he adds. "There's no first-person guide."
Adventurers should be forewarned: Navigating Alpine passes is no Sunday drive. "It's very demanding," Hermann attests. "The roads are unpredictably curvy, with switchbacks and hairpins all over the place. But the fun is in exploring those twisty roads."
Hermann's legacy extends beyond the Alps. He started the BMW Owners Club of San Diego, as well as two other organizations: the BMW Motorcycle Owners of America and the international BMW Riders Club.
At 87, Hermann doubts he'll return to Europe to ride—"My confidence is slipping," he says—but he does continue to ride occasionally with a BMW co-op in the mountains around San Diego.
His Alps footprints, meanwhile, are there to follow for new generations of riders.
—ANDREW FAUGHT